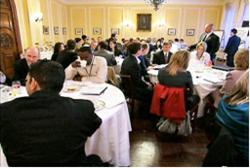 The Product Management Leadership Summit was so engaging, I forgot to look at my Blackberry - Leah Quesada, Xerox Corp.
New York, NY (PRWEB) May 23, 2011
The 3rd Product Management Leadership Summit will be held in New York City at the Union League Club on July 14, 2011.
"This conference on organizational design is particularly important", says Kimberly Hammons, SVP of Organizational Development and Diagnostics at The Product Management Executive Board (PMEB), "because the effectiveness of product managers is directly influenced by the degree of organizational alignment within a firm." The PMEB 2011research report, "The State of the Product Management Organization," yielded extraordinary insight into the composition and effectiveness of Product Management, across a broad spectrum of firms. Key findings show that less than 50% of leaders feel that the functional role of Product Management is consistently defined and clear across business groups within their companies. However, of greater concern is that only 42% of leaders believe their Product Management organizational design balances the Product Management function with the broader needs of the business!
With this context, the Product Management Leadership Summit will contribute to the tool kits used by senior leaders so that they are better able to sustain the function of Product Management within their organizations with valuable presentations from:

Monsanto's VP of US Commercial Product Management, Hobart Beeghly, Ph.D., will talk about the value of Product Management and its role in corporate stewardship.
Thomas & Betts' VP of Product Management, Bob Caporale,will provide his unique perspective on how the culture of Management is fortified in his firm.
TD Bank's President of TD Mutual Funds, Thomas Dyck, will talk about TD Bank's decades-long Product Management journey and how TD inspires and cultivates the function
of Product Management.
A group of panelists from a variety of firms and industries will share insights and answer
questions about beneficial practices related to Product Management in their organization.
The Product Management Leadership Summit is unique. It is a facilitated, interactive forum with presentations and short workshop sessions designed to stimulate discussions that address vital organizational issues in Product Management.
You can hear what others said about the previous Product Management Leadership Summit by viewing the video clips by visiting: http://bit.ly/mx0ywa
ABOUT THE PRODUCT MANAGEMENT EXECUTIVE BOARD
The Product Management Executive Board, a subsidiary of Sequent Learning Networks, is a professional association of Product Management and Marketing Leaders who share a common bond. This bond is vital to their ability to catalyze actionable change in their organizations so that they can optimize the performance of their people, products, and brands.
Sequent Learning Networks (http://www.sequentlearning.com) is a New York City based organizational strategy firm whose goal is to professionalize Product Management and solidify the body of knowledge for this vital function.
###