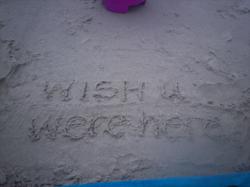 "While the facebook page historically averages just over 43,000 visitors per day,  this was a remarkable uptick", said David Hucks, sales manager for the Myrtle Beach facebook page.
Myrtle Beach, South Carolina (PRWEB) May 23, 2011
On Thursday, May 19, the Myrtle Beach City Social launched a comprehensive event calendar that includes festivals, concerts, sporting events and more. The calendar is both located on the Myrtle Beach website and its Myrtle Beach Facebook Fan Page.  On the first day of its launch the page had 49,712 visitors. "While the Facebook page historically averages just over 43,000 visitors per day,  this was a remarkable uptick", said David Hucks, sales manager for the Myrtle Beach Facebook page. "Fans love the opportunity to see what's going on in town and plan their vacation dates around what is happening."
The Myrtle Beach Facebook page has earned high trust from visitors as fans have come to rely on the open, honest and reliable information provided. The impact of adding an interactive, user friendly event calendar simply adds value to a fan page that is already the most trusted and most popular fan page for the Myrtle Beach area. Compiling a comprehensive event calendar for public access also  keeps the conversation ongoing between customers and businesses.
With a Facebook Fan base of over 340,500 fans these conversations reach over 8 million users every month. Locals and visitors no longer have to search municipal, park, merchant or a myriad of  other sites to find out what is going on, as it is all in one place. The Calendar is easily searched by date, venue and event type making it the most user friendly calendar in Myrtle Beach, SC. Users can visit the calendar directly on facebook or go to the Myrtle Beach site as well, log in via their Facebook account and leave comments or ask questions about specific events for the venue to respond to.  The process is very user friendly and highly interactive.
Local groups, businesses, parks, event planners, and churches simply email the Myrtle Beach staff writer: Tammy Curry at tammy [at] repeatfans [dot] com. and their event will get listed, for FREE. Should the event wants to be considered for the daily featured event spot, related photos must be included.
Not only can businesses submit events, area hotels, retail, attractions, and restaurants have the option of advertising on the Calendar as well.  Monthly featured articles and banners on the calendar  can be purchased at the low rate of only $500 per month. These merchants will be seen by over 8 million people for this price, which is far less than the cost of similar media, and reaches a highly targeted group. To be featured in content or with a banner ad,  Hotel managers, Restaurant owners, Attractions, and retail merchants should contact the sales manager David Hucks at david [at] myrtle-beach [dot] com.  For the months of June through November, all persons who advertise on the Myrtle Beach Calendar will also be included on the area's most successful last minute Myrtle Beach Hotels website.  This website can also be seen from the Myrtle Beach Facebook page, where it is viewed by 162,000 visitors monthly.  The Hotel website is well known for delivering last minute guests to hotels and attractions.
# # #