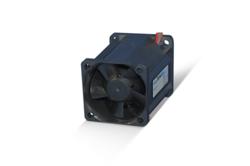 "TheTuboFan Series represent a highly efficient fan motor that is the ideal solution where energy efficiency is most needed."
Chatsworth, CA (PRWEB) May 24, 2011
NMB Technologies Corporation, a Minebea Group Company, announced today the release of the new DC axial TurboFan Series. These new cooling fans are specially designed for applications where performance and efficiency is required. The new TurboFan Series is available in frame sizes of 40X28mm, 40X48mm, 40X56mm and 80X56mm.
The TurboFans have been designed with an integral stationary blade for increased pressure and efficiency, and a single high speed impeller and casing design for aerodynamics optimization. High magnetic flow density is achieved with a neodymium magnetic material design and a high speed bearing lubricant developed by NMB increases the life and reliability of the ball bearings.
"The new design considerations for the TuboFan Series represent a highly efficient fan motor that is the ideal solution for next generation high end server applications where energy efficiency is most needed." commented Fernando Palarca, fan product manager for NMB Technologies Corporation.
Standard features for the TurboFan Series include speed control via PWM, open collector tach output, dual NMB ball bearings, auto restart, and reverse polarity protection, among others. TurboFan samples are currently available at Digi-Key in the following series: 1611FT, 1619FT, 1622FT as well as the 3122FT. Lead time of 16 weeks applies to manufacturing orders.
About NMB Technologies Corporation – NMB Technologies Corporation, a Minebea Group Company, is the world's largest manufacturer of miniature precision ball bearings and a volume leader in the design and manufacturing of precision electro-mechanical components, including cooling fans and blowers, precision small motors and mechanical bearing assemblies. NMB products can be found in the personal computing, networking, telecommunications, home entertainment, home electronics, and automotive, medical and industrial markets. For more information on NMB Technologies Corporation visit: http://www.nmbtc.com or contact us directly.
###