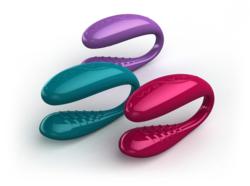 Ottawa, Canada (PRWEB) May 24, 2011
Standard Innovation Corporation is pleased to announce the recent grant of United States Patent No. 7,931,605 for their award-winning We-Vibe® personal massager. The We-Vibe is now protected by strong utility patents granted in the United States, Canada, and Mexico, in addition to design patents or registrations in the United States, Canada, Europe, Japan, Brazil, China, and Australia. This intellectual property provides Standard Innovation Corporation the exclusive rights to make and sell products with the inventive features of the We-Vibe and to protect itself against business damages caused by unauthorized imitators. Additional patent applications are pending in many countries.
"These patents are important legal recognition of the unique nature of the We-Vibe invention as the first dual vibrating sex aid to be worn while making love," states company CEO Danny Osadca. "We will use them to vigorously defend our legal intellectual property rights and to protect consumers from unsafe, poor quality imitations."
The unique features of the We-Vibe were acknowledged with the Most Innovative Product Award at the industry-acclaimed Venus Berlin Awards within months of the launch of the product. Since then, the We-Vibe has rapidly gained market share around the world and is now the top-selling product of its type in many countries.
About the We-Vibe
As the perfect intimate gift, the We-Vibe II is the world's most popular rechargeable vibrator for couples. The product's unique design allows for it to be worn while making love, allowing both partners to enjoy a truly shared and intimate experience. Launched in early 2008, the We-Vibe is now distributed on every continent and in over 50 countries by thousands of retailers, including leading drug store chains, luxury boutiques, and adult stores.
We-Vibe is a registered trademark in the United States, Canada, Europe, Australia, Japan and elsewhere. Registration is pending in many countries.
###