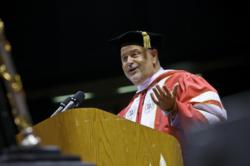 Montclair, NJ (PRWEB) May 20, 2011
Montclair State University awarded an honorary degree of Doctor of Letters to Univision television host Raúl de Molina at the University's 2011 commencement ceremonies on Friday, May 20, 2011 at the Izod Center in East Rutherford, New Jersey. De Molina is the multiple Emmy Award-winning co-host of Univision network's top-rated entertainment news show El Gordo y la Flaca and among the best-known television personalities in the Hispanic world.
In his remarks, De Molina encouraged the students to hold on to their dreams and that, "Anything is possible."
"Never give up, always keep trying, and I can assure you that your dreams will become a reality - sooner or later," he said. "Remember that any opportunity that you are given is just that. Never be afraid to take a risk, because that risk could open the very doors of the world that you are looking to enter. Maybe don't hang out of a helicopter – I'm talking about more calculated, secure risks - but always remember to be yourself and enjoy life along the way. I sure have and look where it's gotten me. Not bad for a fat guy."
Widely known by the nickname "El Gordo," De Molina was born in Cuba, grew up in Spain, and arrived in the United States at the age of 16. After graduating from the Art Institute of Fort Lauderdale, he worked for the Associated Press as a freelance photographer during the 1980s. His photographs have appeared in such publications as Time, Life, Newsweek, National Geographic Traveler, and Paris Match. In 2008, Random House published de Molina's second book, La Dieta del Gordo, in which he wrote about his personal struggles with weight.
Montclair State University
Montclair State offers the advantages of a large university -- a comprehensive undergraduate curriculum with a global focus, a broad variety of superior graduate programs through the doctoral level, and a diverse faculty and student body -- combined with a small college's attention to students.
###