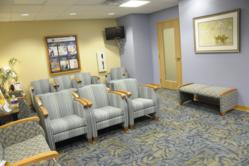 Berkeley Heights, NJ (PRWEB) May 25, 2011
New breast cancer support groups and an exercise program are now being offered by Summit Medical Group's Breast Cancer Center of Excellence. Groups and the exercise program begin the first week of June.
Support groups for the newly diagnosed, and breast cancer survivor groups for patients who are a year or more post-diagnosis, begin June 6. Groups are lead by the Center's breast nurse specialist and a licensed clinical social worker from Summit Medical Group's Behavioral Health Center and meet at the Group's 1 Diamond Hill Road campus.
The exercise program, beginning June 8, can help breast cancer survivors stretch chest muscles and strengthen back muscles to help restore preoperative flexibility. Tailored to each patient, the program and exercises are designed to meet a participant's individual needs and allow each person to progress at a rate that is right for her.
Summit Medical Group's Breast Care Center of Excellence is the only breast care center in New Jersey certified by the National Consortium of Breast Centers. With the majority of its services located under one roof, the Summit Medical Group Breast Care Center of Excellence offers comprehensive support and care of benign conditions and all stages of breast cancer. They welcome newly diagnosed patients as well as those with recurrent disease from their own and other practices throughout the New Jersey/New York metropolitan area.
For specific meeting times and more information, visit the Events page at http://www.summitmedicalgroup.com or call the Summit Medical Group Breast Care Center at 908-277-8770.
ABOUT SUMMIT MEDICAL GROUP
Providing exceptional primary and specialty care since 1929, Summit Medical Group has pioneered information technology advances with its electronic health records and electronic prescribing program. With more than 225 highly qualified healthcare providers, it serves as a unique model of healthcare in New Jersey. Through its nationally recognized award-winning customer service program, Summit Medical Group treats more than 55,000 patients per month at its Berkeley Heights campus and area satellites in Bayonne, Berkeley Heights, Millburn, Shorts Hills, Summit, Warren, and Westfield. NJBiz magazine named Summit Medical Group one of the Fifty Fastest Growing Companies in New Jersey. Summit Medical Group is a member of the American Medical Group Association For more information, visit http://www.summitmedicalgroup.com.
###