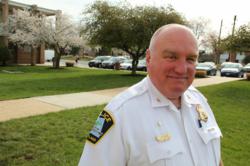 Overall crime at Franklin Park is down 11 percent in the first quarter of 2011, with a remarkable reduction of 50 percent in robbery
Greenbelt, MD (PRWEB) May 22, 2011
Since taking over the ownership and management of one of the East Coast's largest rental apartment communities last year, Fieldstone Properties has worked closely with local authorities to reduce crime by over 30 percent, including an 11 percent reduction in the first quarter of 2011. Franklin Park at Greenbelt Station is located in Prince George's County, MD just outside Washington, D.C. and has 2,877 rental apartments and townhomes.
"Fieldstone Properties and the Greenbelt Police Department share a robust partnership in providing a safe place to reside," said Greenbelt Police Chief Jim Craze. "Overall crime at Franklin Park is down 11 percent in the first quarter of 2011, with a remarkable reduction of 50 percent in robbery. These reductions can be directly traced to the presence of a Community Policing Officer assigned full-time to the neighborhood, other directed patrols in the area, and diligent, proactive management of the property."
"The future is bright," Chief Craze added. "From every indication, further reductions can be expected."
Tim White is the Community Policing Officer assigned full-time to Franklin Park. Fieldstone Properties has provided him with an office, direct access to its tenant database, and a golf cart for patrolling the 153-acre property. "The golf cart is so quiet that people don't hear me coming," he said. "Some people don't like that." Officer White provides tenants with his cell phone number, email address, and an anonymous tip line. Aiding Officer White's work are new community-wide security improvements, including call boxes and security camera enhancements.
Franklin Park's management has initiated leasing policies that include criminal background checks. As a result, tenants in more than 260 apartments have been evicted, and all tenants are now held responsible for the behavior of their visitors.
Fieldstone Properties is focusing on improving safety and security while investing $15 million to renovate the community's nearly 3,000 apartments, common grounds, and tenant amenities. "We are committed to providing safe, modern, convenient, and affordable workforce housing for military personnel, government employees, veterans, and students," said Debbie Dillon, Executive Vice President, Fieldstone Properties.
Franklin Park offers rent discounts and other incentives for those who protect and serve, including the military, police officers, sheriff's deputies, and firefighters.
Franklin Park enjoys an ideal location adjacent to the Greenbelt Metro and MARC rail station, the Capital Beltway (I-495), and Kenilworth Avenue. Major nearby employment centers include Fort George G. Meade and Joint Base Andrews Naval Air Facility, the University of Maryland, NASA Goddard Space Flight Center, the U.S. Department of Agriculture, and the National Security Agency. Franklin Park's proximity to Metro's Green Line makes it quickly and easily accessible to Howard University, the Navy Yard, and the U.S. Department of Transportation, as well as the many private and public employers in downtown Washington. Metro's Green Line also provides direct access to Washington's most exciting urban dining, shopping, and entertainment destinations, including Columbia Heights, the 14th Street corridor, the Washington Convention Center, and the Penn Quarter, home to the Verizon Center, restaurants, clubs, museums, and a variety of trendy shops.
Established in 2001, Fieldstone Properties owns and manages over 10,000 rental apartment units in New Jersey, New York, Florida, and the Washington, D.C. metropolitan area. This portfolio comprises garden, mid- and high-rise, and townhome communities in both suburban and urban locations. Fieldstone Properties has established a successful track record repositioning under-managed assets.
# # #