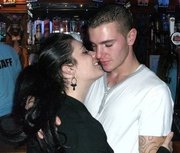 New York, NY (PRWEB) May 22, 2011
Shortly after achieving their long-time goal of reaching 100,000 fans on Facebook, Jovani Fashions became a social-networking force not to be reckoned with. The women's evening wear designer started to aim most of their attention at their biggest source—their "fans." After weeks of randomly awarding Jovani fans with lavish gifts (as a simple acknowledgement of their dedication and loyalty), the fashion company could not have predicted a proposal between one couple in the United Kingdom would occur instantaneously on their Facebook page.
It all started with one tiny Facebook post from Hazel Christopher that said, "OMG My boyfriend has just said he will PROPOSE if I win him a watch!!!!!!!!!!!! NOT EVEN JOKING!! THIS has upped the stakes a million!!!!!! OMG OMG OMG!!!!!!!" In that moment, tens of thousands of people remained fixated to their computer screens to see who Jovani's next Facebook winner would be and if Hazel would get proposed to. An outpouring of fans rooted and cheered as the fashion company naturally chose her to be the next winner of an exclusive Jovani watch.
But the excitement doesn't end there. Not only did Hazel announce that she has just gotten engaged as a result of the Friday Facebook contest, Jovani Fashions could not resist but to suggest a proposition that would stimulate their fans even more. The long-time dress designer offered the bride-to-be a fabulous gown from their 2011 Bridal Collection if she could get her boyfriend, Steven Worrall, to propose on the Facebook page—and surely he did.
"I know I should have done this a long time ago, you are my world. Thank you for blessing me with our beautiful baby boy, although things haven't always been easy, they've been easier because I've had you at my side. I'm not very good with words, and feeling slightly embarrassed, but I love you and I want us to be a proper family, please will you make me the happiest man alive and be my wife?"
At that point, Steven's post could now be seen on hundreds of thousands of news feeds across the world, and "Jovani Fashions" became more than just a dress company's Facebook page. The forum could now be seen as a safe-haven, a place of security where miracles can occur and fans can happily indulge into the daily lives of others. Perhaps, today's top Matchmaking sites could get a few pointers.
Company
Jovani is an ultimate designer in women's evening wear. The family-owned fashion house has become a highly reputable brand that designs and manufactures all sorts of special occasion dresses. From prom dresses, wedding gowns, cocktail and homecoming dresses, not to mention red carpet couture, Jovani has a collection for every formal need. As an innovator, Jovani's designer dresses are both fashion-forward and timeless. The eye-catching styles are also a favorite among Hollywood's hottest celebrities.
Contact: Lianne Gourji
Phone: (212) 279-0222 Ext. 111
###