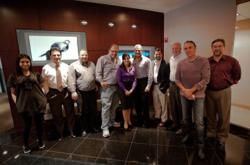 "Each annual SJN conference is as an invaluable knowledge-sharing forum for our agency partners to discuss their depth and breadth of experiences," said George L. San Jose, chairman and founder of SJN.
Chicago, IL (PRWEB) May 23, 2011
The San Jose Network, Ltd. (SJN), the largest marketing communications group serving clients in multicultural convergent markets within the U.S. and Latin America, hosted its 14th annual conference at the offices of network affiliate, The San Jose Group, on May 5-6 in Chicago, IL. With the theme of "Advertising Today: Trends and Innovations," seasoned advertising leaders were brought together to collaborate on traditional and digital marketing innovations at both strategic and tactic levels.
Chairman and founder of SJN, George L. San Jose, welcomed representatives from agency affiliates including Giacometti & Associates, ERC Group and Ad Mark. The conference also featured Peter Gerritsen, president of TAAN, the leading global independent agency network. SJN and TAAN have a global alliance with a significant footprint of expertise that spans every continent, including a combined network of 83 offices in over 49 countries and a presence in 90 markets.
Leading the conversations during the two-day conference were keynote speakers Joe Cappo and Peter Prestipino. Cappo, an award-winning journalist, industry veteran and author, addressed attendees about the past as it relates to the future, particularly the post-television age. Prestipino, editor-in-chief of Website Magazine and author of Web 360, the Fundamentals of Web Success, wowed attendees with his website and analytical expertise through his "12 Minutes to Web Success" seminar.
"Each annual SJN conference is as an invaluable knowledge-sharing forum for our agency partners to discuss their depth and breadth of experiences," said George L. San Jose, chairman and founder of SJN. "We all walked away with great new insights about upcoming technology and how we can incorporate it into our existing marketing communications programs."
The San Jose Network, Ltd. (SJN) is the largest independent marketing communications network serving clients in multicultural convergent markets within the U.S. and Latin America. Made up of best-in-class, independently owned agencies, SJN offers clients access to local expertise in 18 countries via a centralized management approach. For more information, visit http://www.thesanjosenetwork.com
# # #