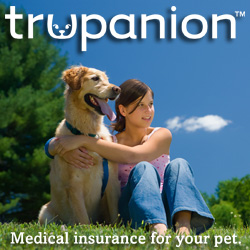 "This partnership is an obvious fit for us because we know how passionate our policyholders are about pets." - Darryl Rawlings
Seattle, WA (PRWEB) May 23, 2011
In an effort to support its commitment to companion animals, Trupanion, the nation's fastest growing pet insurance provider, has announced a partnership with American Humane Association and its Second Chance Fund. Both organizations share the common goal of helping companion animals receive optimal veterinary care. While Trupanion offers pet owners financial assistance to care for their pets in a healthcare emergency, the Second Chance Fund offers financial assistance to those caring for abused and neglected pets.
Beginning immediately, new Trupanion policyholders will have the opportunity to donate five dollars per month to the Second Chance Fund. The monthly donations will be automatically deducted from their checking account at the same time as their pet insurance premium. Policyholders will also be able to donate to the cause at other times during the year.
"This partnership is an obvious fit for us because we know how passionate our policyholders are about pets," said Darryl Rawlings, Chief Executive Officer at Trupanion. "We are simply facilitating the opportunity they are looking for to help pets in need."
Trupanion's goal is to protect the cherished bond between pets and their families by ensuring that pets are able to receive optimal veterinary care. Over the last several years, driven by the addition of specialty hospitals and advanced diagnostics, the costs and delivery of advanced veterinary care has increased significantly, making it difficult for those without pet insurance to provide the highest quality treatment available.
Victims of animal abuse do not often enjoy the protection of pet insurance, but they often need it the most. The medical costs of treating and rehabilitating an abused animal can easily become overwhelming for the animal welfare organizations and veterinarians that take them in – particularly when long-term care is necessary. This is where the Second Chance Fund can help.
The Second Chance Fund's goal is to give animal victims of abuse a second chance at life by providing the financial assistance needed for their care, allowing them to rehabilitate and begin a new life free from abuse. Rehabilitated animals are placed in loving forever homes.
"This partnership is a win-win for America's animals," said Dr. Robin R. Ganzert, president and CEO of American Humane Association. "Those who participate in the Trupanion effort to support the Second Chance Fund are not only protecting the animals who mean so much to them in their own lives, but making it possible to bring life-saving medical services to animals in great need around the country. On behalf of all the ill, frightened, abandoned and abused animals who will benefit from their generosity and commitment, we say thank you!"
About Trupanion™
Trupanion™ pet insurance offers cat insurance and dog insurance in the United States and Canada. Trupanion™ is self-underwritten by the American Pet Insurance Company, allowing Trupanion™ to offer a simple, customizable pet insurance policy with no payout limits and 90% coverage of veterinary bills. Enrolled pets receive lifetime coverage for diagnostic tests, surgeries, and medications if they get sick or are injured, with no incident, annual or lifetime limit. Trupanion's mission is to deliver fast, simple and user-friendly financial support to pet owners. For more information about Trupanion™, call 800-569-7913 or visit http://www.TrupanionPetInsurance.com.
About the North American Pet Health Insurance Association
Trupanion™ is a founding member of the North American Pet Health Insurance Association (NAPHIA). Founded in 2007, the North American Pet Health Insurance Association is committed to educating and promoting the values and benefits of quality pet health insurance to North American pet owners, the general public, and the veterinary community. As an association, we are committed to high standards and transparency in all of our actions and products. To learn more, visit the North American Pet Health Insurance Association website at http://www.naphia.org.
About American Humane Association
Since 1877, the historic American Humane Association has been at the forefront of virtually every major policy movement, legislative effort, and shift in cultural attitudes aimed at improving the lives of children and protecting pets and farm animals from abuse and neglect. Today the organization is leading the way in understanding human-animal interaction and its role in society.
About the Second Chance Fund
The Second Chance Fund is one way American Humane Association works to support animal welfare organizations in their vital work. By providing financial assistance, in select cases, to animal welfare organizations responsible for the temporary care of animals as they are prepared for adoption into permanent, loving homes, the program provides animal victims of abuse or neglect with a second chance at life.
###