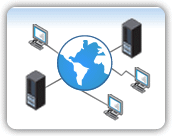 Zyrion's ability to provide real‐time visibility into the performance of business services was critical to the customer's business renewal strategy
Sunnyvale, CA (PRWEB) May 23, 2011
Zyrion Inc., a provider of Business Service Management (BSM) and Network Performance Monitoring Software, today announced the continued expansion of its partner program in North America and Internationally. Zyrion's Traverse software allows solution and MSP partners to help medium and large organizations increase visibility and control over their IT infrastructure, and adopt best-practices for Service Management. With Zyrion's offering, partners have the opportunity to improve customer loyalty, expand market offerings and grow their bottom line.
Zyrion's Traverse software enables, within one integrated platform, monitoring the health of complex IT infrastructure, as well performing advanced analytics to understand the impact on supported business services (see http://www.zyrion.com/products/ ). Traverse provides a business service view of the infrastructure, with the ability to quickly link infrastructure components to the associated business services. Zyrion offers to resellers an advanced network monitoring software and BSM solution that is affordable, intuitive to use, and quick to install. As organizations worldwide are dealing with the new realities of distributed, virtualized and cloud technology, Zyrion's reseller partners have been able create new revenue streams through addressing their customers' service management and monitoring challenges.
TRM Technologies Inc. ( http://www.trm.ca ), a Canadian provider of Enterprise Architecture, Infrastructure, Security, Risk Management, and HR solutions, recently completed the sale and deployment of Traverse for the Canadian Government. TRM guided the customer through a fit-gap assessment, during which Traverse was evaluated against other solutions, including offerings from the other vendors.
"Zyrion's ability to provide real‐time visibility into the performance of business services was critical to the customer's business renewal strategy," said Norman Carr, President at TRM. "Zyrion's flexible, easy-to-implement, yet powerful business container technology that allows creating multiple logical service oriented views of the network was recognized as being a unique capability. Also, the support from the Zyrion team during the evaluation process was exceptional. Monitor definitions for the customer's wireless devices were turned around within days."
"Our partners can leverage the Traverse monitoring software system to help their customers make faster, more informed decisions on assuring service performance, and where best to focus IT incident management effort based on the services impacted," said Vikas Aggarwal, CEO of Zyrion. "Given that our partners have already sold and supported the core IT infrastructure elements within their customer base and the markets they serve, Traverse offers a compelling high value-add solution opportunity for our partners."
Zyrion has also made progress with other key partnerships within the past few months. The Merito Partnership, a business technology solutions specialist operating in the Asia Pacific region, recently provided the Traverse software solution to Australia's largest supplier of Oracle Solutions for monitoring its Managed Services Environment. A number of US based partners are experiencing success with Traverse, with significant activity in the government sector. Additionally, Zyrion is also looking to make inroads into the EMEA marketplace with a set of select reseller relationships (to learn more visit http://www.zyrion.com ).
###