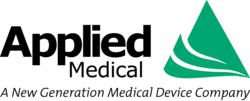 Rancho Santa Margarita, CA (PRWEB) May 23, 2011
Applied Medical today announced that it filed a lawsuit against Tyco Healthcare (doing business as Covidien) on May 17, 2011 in the U.S. District Court for the Central District of California for infringing a recently issued Applied Medical trocar seal patent by Covidien's VersaPort Plus and VersaSeal Plus trocar products, Civil Action No. CV 11-4203 VBF (AJWx). The patent is one of many Applied Medical owns which protect its market-leading universal seal technology.
Applied Medical had obtained two prior judgments that Covidien's predecessors, Tyco Healthcare and U.S. Surgical, willfully infringed other Applied Medical patents on the universal seal technology by selling earlier versions of the VersaPort Plus and VersaSeal Plus products. As a result of those judgments, those earlier versions are no longer on the market today. The new case reflects Applied Medical's continued determination to defend and protect its intellectual property.
"We have a responsibility to our customers, team members and stockholders to safeguard our investments made in bringing innovative medical devices to the healthcare community. We will use all reasonable measures to ensure serial violators, such as Covidien, stop the infringement of our patented inventions," said Applied Medical's Surgical Group President, Gary Johnson.
About Applied Medical
Applied Medical is a new generation medical device company committed to the pursuit of sustainable, progressive health care solutions. Applied Medical designs, manufactures and distributes innovative surgical products that enable enhanced patient outcomes while providing cost effective procedures and techniques. For more information, visit http://www.appliedmedical.com.
Contact:
Karen A. Gibbs, Vice President, Legal, 949-713-8000.
###