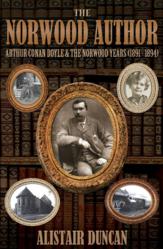 Conan Doyle is just as important as the likes of Charles Dickens and Jane Austen
(PRWEB) May 22, 2011
'The Norwood Author' fought off strong competition to lift the coveted Tony & Freda Howlett Literary Award 2011 from the Sherlock Holmes Society of London - the UK's top Holmes book award. The book covers the years of Sir Arthur Conan Doyle's life between 1891-1894 when he lived in Norwood in London and wrote many of his most important Sherlock Holmes works, including the first two series of short stories. It is the third book from leading Holmes historian Alistair Duncan (37) who himself is a resident of South London. The award was presented at the Society's AGM in London on Thursday 19th May.
Duncan was prompted to write about this period in Conan Doyle's life as there had been little written about his time there. Being a local resident helped Duncan with the determination and passion needed to tackle such a challenging book project. With many new sources and completely new material Duncan confirms that this was his most difficult book yet.
"Conan Doyle was a man who always got involved in his local community regardless of what he was doing on the national stage. All the biographies that I had read failed to contain much, if anything, about his local activities when it came to the Norwood years. I couldn't believe that there was nothing to discover and took it upon myself to go digging."
Duncan's acknowledgements of research help is a who's who of Sherlockian societies and research units around the world. However, he singles out Christine Corner and Chris Bennett from the Croydon Library's Local Studies unit for their help with the local archives as being instrumental in helping find dozens of new gems of information about Conan Doyle.
Conan Doyle was a resident of Norwood from 1891-1894 and in addition to many of his most important works being written there, including around a third of the Holmes stories, several key events in his life happened. The low points were family tragedies – his wife being diagnosed with an incurable disease and given only a few months to live; to be followed soon after by the death of his father. During this period Conan Doyle lived a suburban life in South Norwood, London and Duncan has delved into the minutiae of this time to give us the details of Conan Doyle's involvement in his local environs, particularly in three enduring aspects of his life – the sporting, the literary and the scientific.
Duncan's publishers MX Publishing (London, New York) had a second book in the shortlist as well. 'Arthur Conan Doyle, Sherlock Holmes and Devon' by Paul Spiring, Brian Pugh and Sadru Bhanji covers Conan Doyle's time in Devon and has been highly praised as a travel guide for Holmes fans that want to re-trace his steps to such memorable places as Dartmoor where 'The Hound of The Baskervilles' is set. MX Publishing Managing Director, Steve Emecz (39) comments;
"We are delighted that Alistair has won this award, it is so well deserved. The meticulous research that went into The Norwood Author was incredible. For us to have two books on the shortlist is a very proud moment for MX."
Paul Spiring (42) who teaches at the European School at Karlsruhe (Germany) commented on being shortlisted;
"To be nominated for such a prestigious award by such an illustrious society is a humbling honour and it vindicates the enormous amount of effort that we put into both researching and writing the book."
Duncan is hard at work at what he has said is likely to be his most important work.'An Entirely New Country' comes out later this year and covers Conan Doyle's time at his famous family home Undershaw. With the future of Undershaw under threat it is the perfect time to share its importance with the world. This is another subject he is very passionate about.
"The powers that be seem to be content to wash their hands of the house and permit part of our country's literary heritage to be lost. Regardless of what they, and others, may think Conan Doyle is just as important as the likes of Charles Dickens and Jane Austen and an effort must be made to preserve this valuable part of his past."
Sherlock Holmes is one of the most popular characters in Victorian literature with hundreds of books written on the subject every year. The new BBC series 'Sherlock' and the Hollywood movies from Guy Richie are also helping encourage a whole new generation of fans. MX Publishing has published more than a dozen new Sherlock Holmes history and Sherlock Holmes pastiche books in the last year with two new books this month. 'The Outstanding Mysteries of Sherlock Holmes' is a collection of new short stories by Gerard Kelly and the much awaited 'Rendezvous at The Populaire' by New Jersey resident Kate Workman which sees Sherlock Holmes up against The Phantom of The Opera.
More Information
'The Norwood Author - Arthur Conan Doyle and the Norwood Years (1891 - 1894)'
Paperback ISBN 978-1904312697 RRP $16.95, £9.99 and €12.99.
Also available for Amazon Kindle. iBooks (iPad/iPhone), and Kobo.
Arthur Conan Doyle, Sherlock Holmes and Devon
Paperback ISBN 978-1904312864 RRP $19.95, £12.99 and €14.99
Also available for Amazon Kindle. iBooks (iPad/iPhone), and Kobo.
Alistair Duncan's Blog - Paul Spiring's Blog.
# # #