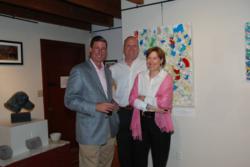 The Plains, VA (PRWEB) May 22, 2011
Lilla Ohrstrom's Youngblood Art Studio in The Plains, Virginia is the site for the art show that had its preview earlier in the week.
Artists include photographers Megan Witt, Missy Janes (Annie Award recipient), Redmond Manierre, and Jeanne Morency. Other works in ceramics were by Lilla Ohrstrom, paintings by Helen Hilliard and abstract paintings by Less Cancer founder Bill Couzens.
Lilla Ohrstrom is a previous winner of the "Annie Awards" given each year by Less Cancer and is also this year's designer of the award, a Starfish for the organization representing a reflection of stars in the sky represent healing-regeneration and vigilance in the work for cancer prevention. The preview evening of the exhibit included presenting Helen Wiley of Middleburg, Virginia the Annie Award. Other Annie Award recipients this year included Greg Lam of Kansas City Missouri, Beth Grace of Arlington Virginia, Lysa Horkan of Upperville Virginia. Previous years the Annie Awards have included Less Cancer board member Veronique Pittman of New York, Elsie Hillman of Pittsburgh, Pennsylvania, KC Graham of The Plains Virginia and Board Chairman Thomas M. Sherman MD of Rye, New Hampshire.
Lilla Ohrstrom, brainchild of the exhibit teaches classes, hosts life drawing sessions, exhibits other artists and creates her own work at Youngblood Art Studio. She has been working in clay since childhood and has a degree in sculpture from Skidmore College University Without Walls, 1988. She studied at Parsons School of Design in Paris and has worked closely with American artist Cyril Heck in Paris and apprenticed with Felix deWeldon, sculptor of the Iwo Jima memorial. In addition, Lilla completed a year of perfectionnement at the l'Ecole des Arts Décoratif in Strasbourg, France.
Artists and preview attendees of the preview were celebrating the resolution for Virginia's new Cancer Prevention Day, naming February 4, 2011, and every succeeding February 4, as Cancer Prevention Day in the state of Virginia.
Senator Jill Holtzman Vogel introduced the resolution and was instrumental in its passage. Bill Couzens, Founder of Less Cancer was the visionary for Cancer Prevention Day that will now fall on every February 4 when Virginia's General Assemble is in session, providing law makers the opportunity for understanding the importance of cancer prevention.
Bill Couzens a marketing and events consultant, originally hails from Detroit, Michigan, is a graduate of Wayne State University and the Founder and President of the nonprofit Next Generation Choices Foundation and the widely-known Less Cancer Campaign. The campaign has worked to raise awareness for the reduction of cancer risks. Founded in 2004, Next Generation Choices Foundation partners with communities to create and dispense educational tools that focus on environmental health advocacy and lifestyle choices.
The public charity was formed in response to the escalating cases of cancer and the lack of education and knowledge about potential causes. Couzens has been recognized by Congress last year and again this year for Virginia's Cancer Prevention Day in addition to the Commonwealth of Virginia for his work in initiating and creating best practices to reduce pesticide drift in health effected communities such as schools. He has been published in a number of periodicals and has been a speaker on the topic of reducing risk for human health and the environment.
Next Generation Choices Foundation Board of Directors is newly chaired by gastroenterologist Thomas M. Sherman, MD of Rye New Hampshire. Dr. Sherman practices gastroenterology and internal medicine. Dr. Sherman practiced formerly in Warrenton, Virginia and was former Medical Staff President and Board member of Fauquier Hospital. Dr. Sherman is a founding board member of Next Generation Choices Foundation.
New Next Generation Choices Foundation/Less Cancer board member elect Stormy Stokes Hood of Upperville, Virginia is a founding Partner of Paul Wilmot Communications (NYC). The client roster includes some of the world's most respected high fashion and lifestyle brands — including Calvin Klein, Oscar de la Renta, Tommy Hilfiger, the Whitney Museum and the American Ballet Theater. Prior to PWC, Stormy was at Calvin Klein and Dolce & Gabbana in the Public Relations Divisions.
Also on the board of directors is Ronald B. Herberman, MD, Maryann Donovan, PhD, MPH, Veronique Pittman, Greg Lam, John Couzens and television personality award winning journalist Miles O'Brien.
Please call Youngblood Art Studio at 540-253-5667 if you are interested in seeing the exhibit.
# # #