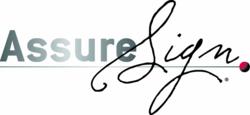 We have been successfully delivering electronic signature software for the Insurance industry for many years now and we look forward to working with Oracle on improving and broadening our offerings to our customers.
Orlando, FL (PRWEB) May 23, 2011
AssureSign LLC, a leading provider of electronic signature software, today announced that it has achieved Gold Partner Status in the Oracle PartnerNetwork (OPN). By attaining Gold Level membership, Oracle has recognized AssureSign for its commitment to establish Oracle related in-depth knowledge and excellence in delivering electronic signature technology and for uniquely addressing the challenges of joint customers.
AssureSign's electronic signature software reduces the barrier to document signature execution through Oracle's enterprise document automation solution, Documaker Enterprise Edition. AssureSign's electronic signature software can be installed on premise for larger clients or as a Software-as-a-Service (SaaS) offering, and provides Documaker users with easy customization and branding options. Additionally, as one of the only e-signature vendor with enterprise-wide SAS-70 Type II certification, AssureSign is a reliable and compliant electronic signature software provider, supporting multiple channels, including consumer self-service portals, agent portals and mobile applications.
"Attaining the Gold level membership is such a rewarding milestone for us," said David W. Brinkman, president and chief executive officer of AssureSign LLC. "We have been successfully delivering electronic signature software for the Insurance industry for many years now and we look forward to working with Oracle on improving and broadening our offerings to our customers."
With its Gold status, AssureSign receives the benefit of being able to start developing specializations that will allow them to grow their business, increase their expertise, reach higher levels of customer retention, and create differentiation in the marketplace. Gold members also become eligible to resell all Oracle Technology products and can apply to resell Oracle Applications and Industry Solutions. In addition, they receive access to Oracle account representatives and My Oracle Support updates for all products, discounts on training, limited free assessment/exam vouchers, reduced rates on the purchase of Oracle licenses for internal use, discounts on advanced customer services and more. For more information about the benefits of becoming an Oracle Gold level partner, please visit http://www.oracle.com/us/partnerships/index.htm.
AssureSign will be attending the ACORD LOMA Insurance Systems Forum which will be held May 22-24, 2011 at the San Diego Convention Center in San Diego, CA .
About Oracle PartnerNetwork
Oracle PartnerNetwork (OPN) Specialized is the latest version of Oracle's partner program that provides partners with tools to better develop, sell and implement Oracle solutions. OPN Specialized offers resources to train and support specialized knowledge of Oracle products and solutions and has evolved to recognize Oracle's growing product portfolio, partner base and business opportunity. Key to the latest enhancements to OPN is the ability for partners to differentiate through Specializations. Specializations are achieved through competency development, business results, expertise and proven success. To find out more visit http://www.oracle.com/partners.
About AssureSign LLC
AssureSign LLC is a leading provider of web-based and on-premise electronic signature software, enabling users to obtain both written and verbal authorizations. AssureSign provides the most integrated and feature-rich APIs available and features a unique, patent-pending technology allowing for the execution of any document with forensically identifiable, biometric signatures or typed 'certified' signatures. AssureSign is a highly secure and flexible "cloud computing" application, and the only e-signature provider with a four year track record of providing customers with 99.99% uptime in a multi-site data center with SAS 70 Type II certification extending to all aspects of the enterprise. Using the standards-based DocumentNOW® and DocumentTRAK™ integration tools, AssureSign can easily integrate with existing business processes within any enterprise, regardless of size. AssureSign's experience extends over 11 years and comprises more than 100 million unique signature events. AssureSign customers consistently experience dramatic cost savings, as well as significant reduction in the time to execute documents. For more information visit http://www.assuresign.com or follow AssureSign on Twitter at http://www.twitter.com/assuresign.
Trademarks
Oracle and Java are registered trademarks or Oracle and/or its affiliates.
###