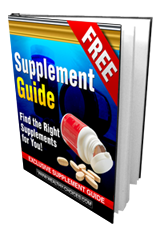 Discover what products you should be taking, and which actual brands are worth the money.
Toronto, Ontario (PRWEB) May 23, 2011
Everyone's confused about health supplements and they don't know which ones to take. Health organizations scare people about the risks involved, while supplement companies continue to push their products with flashy ads and outrageous claims. According to Tyler Stokes the founder of Health Supplement Choices, there are supplements which offer clear health benefits, and others which offer none.
These days being healthy seems to be all about balance. Whether it's a balanced work-life or a balanced diet, someone, somewhere is recommending this. When it comes to health supplements, this advice is good, but it's not complete.
At one end there are health organizations being too conservative, and on the other end the supplement companies trying to make huge profits. There are also Internet marketers going viral selling fitness and diet programs which claim results without having to "waste money" on so called supplements, but often end up recommending muscle building supplements within their guides. Finding a balance between each side of the spectrum is a challenge.
Fortunately HealthSupplementChoices.com has put together a report which outlines which supplements are the most important for various demographics and fitness goals. The report offers recommendations for healthy adults, the aging population, and athletes. It also explains why health supplements are beneficial for most people and which brands are actually worth the money.
The website also offers a chance for visitors to post their questions directly to Tyler Stokes. Visitors can ask questions related to specific products like multivitamins, or various health concerns like weight loss. There's also an opportunity for other people to comment and expand the discussions with their own thoughts. In a time when there's so much conflicting information it can be a relief to get an unbiased answer.
HealthSupplementChoices.com was created to provide easy to read information about health supplements. The site offers a range of articles and recommends supplements and other healthy alternatives. There's a supplement question page where visitors can ask questions or comment on other discussions.
# # #