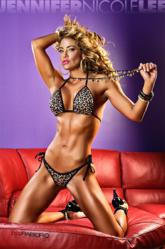 "I am honored to be a part of the BSN family of iconic super fitness stars and celebrities. BSN is such a huge global force in the wellness industry, second to none. I look forward to continuing a successful future with BSN."
- Jennifer Nicole Lee
Boca Raton, FL (PRWEB) May 21, 2011
Jennifer Nicole Lee's last agreement and contract with BSN, developer of international physique and performance nutritional supplements, is coming to a close this May 2011. BSN Supplements presented JNL's camp with a new endorsement agreement, seeking to sign her for the next 2 years, ending in June 2013, with an explicit right to renew the agreement for up to one additional year.
When asked how it feels to renew her business agreements and sign on the dotted line again with the world's leader in sports performance and nutritional dietary supplements, Mrs. Lee responded "I am honored to be a part of the BSN family of iconic super fitness stars and celebrities. BSN is such a huge global force in the wellness industry, second to none. I look forward to continuing a successful future with BSN, and promoting their amazing line of products to my fitness friends worldwide."
Other huge names on the BSN roster include bodybuilding living legend, eight time winning Mr. Olympia Ronnie Coleman, MMA super star Cain Velasquez, and also online reality star sensation Scott Herman.
JNL's future celebrity appearances will be announced via her email database, which can be joined at http://www.JenniferNicoleLee.com with the email opt in box.
Jennifer Nicole Lee is the world's most highly sought after super fitness model, bestselling author of three hardcopy books, top selling calendar girl, and was just recently named "the sexiest woman on YouTube," and "one of the hottest women of 2011." Her career shows no signs of slowing down, after the news of her extending her contract with BSN, and her up and coming fitness products soon to be released. Her latest production, JNL FUSION, is a complete 12 extreme at home exercise DVD compilation in which will be sold via infomercial around the world.
# # #