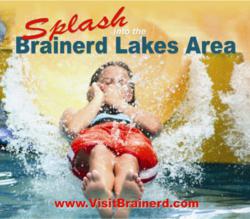 Suzette Bush, Executive Director of "Visit Brainerd" Lodging Association said, "We had a fabulous turnout for the show and it was so much fun meeting our future guests and getting them registered to win our featured prizes."
Brainerd/Baxter, MN (PRWEB) May 23, 2011
Suzette Bush, Executive Director of "Visit Brainerd" Lodging Association was excited to attend the 2011 Northwest Sportshow this spring, representing the Brainerd and Baxter area. With eleven individual vacation lodging properties offering a wide variety of options for vacationers to the area, she was able to provide information tailored to suit individuals, couples, families, groups and corporate events.
Located in the heart of the lake country of central Minnesota a mere two hour drive from the Twin Cities, the Brainerd – Baxter area has long been a favorite for visitors from Minnesota and from around the globe. Famous for outdoor activities in all four seasons of the year, the area boasts hundreds of lakes with excellent fishing and water sports opportunities.
Suzette was delighted to explain that the area has so much more to offer with hundreds of holes of golf situated on some of the most picturesque courses to be found anywhere in the nation, hunting and shooting opportunities on thousands of acres of public lands, trails to be enjoyed by hikers, horseback riders, skiers and snowmobilers.
"Our visitbrainerd.com website features links to the many amenities of the area, including an events calendar to help our visitors decide on activities which match their interests. There are so many options of things to see and do in Brainerd, Baxter and the surrounding communities with everything from guided fishing trips to museum visits and art exhibits, exciting auto races to colorful parades."
Visit Brainerd wanted Sportshow attendees to know about the service they provide in assisting visitors with all of the arrangements for a great vacation. Finding the perfect combination of activities to entertain and delight is as easy as a phone call and Suzette is pleased to suggest the perfect Brainerd hotel, motel, camp ground, to complete the plan.
Sportshow attendees were treated to a chance to win one of several prizes sponsored by Visit Brainerd. In addition to providing thousands of maps and brochures, the organization gave away two Minnesota Wild tickets for the last game of the season. Another prize offered at the show was a two night stay at any Visit Brainerd property with a half-day boat rental and a gourmet dinner at the Prairie Bay Restaurant in Baxter.
###