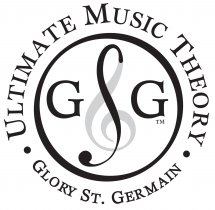 (PRWEB) May 24, 2011
With many music theory teachers asking questions about the Ultimate Music Theory Series, MusicTheoryTeachers.com decided to put up a website explaining these new amazing theory workbooks.
Some of the questions that are answered: Who is Glory St.Germain? Why was Ultimate Music Theory developed? What does it do? Why does it work so well? Some of the answers my surprise you.
The strategy's and techniques used in the books are very innovative and are way ahead of the standard theory books in use. "Since we have SO much knowledge about the human mind and how incredible it is, we must play to our strengths in learning."- Author Glory St.Germain says.
The new MusicTheoryTeachers.com site was finished May 19th, 2011 and is getting a great response, already hundreds of music theory teachers are finding their way to the site and discovering the power of the new Ultimate Music Theory Series. This is a great information site for music teachers and it (the new website) clears up a lot of questions that have been asked in the last few months. Make sure you tell your music theory teacher friends about the new MusicTheoryTeachers.com site. The new sister site of Ultimate Music Theory. Have a look now.
###