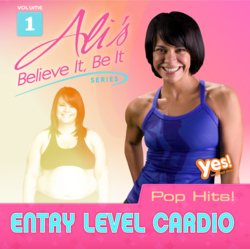 When the cameras were gone, I needed a new way to get energized to exercise. That's when I realized the power of music in my workouts!
Washington, DC (PRWEB) May 24, 2011
Each week, millions of viewers tune into NBC's hit show The Biggest Loser to watch fed up overweight people break through their physical and emotional barriers in an effort to transform their lives. Many of the obese participants have never exercised a day in their life, yet they humbly follow the strict and often intimidating demands of celebrity trainers who use rigorous exercise and a strict diet to dramatically shed the pounds. Yet, when they leave The Biggest Loser camp spotlight, how do these newly slim contestants stay motivated to move at home? According to Ali Vincent, The Biggest Loser's first female winner, the secret to getting up and going for it is music!
"On the show, we had trainers and chefs giving us the tools and motivation we needed every day. This is NOT reality for average people trying to lose weight!" says Ali, who shed 112 pounds and reduced her body fat by 48% on The Biggest Loser's season five. "When the cameras were gone, I needed a new way to get energized to exercise. That's when I realized the power of music in my workouts!"
Since her breakthrough on The Biggest Loser, Ali has maintained her weight loss through daily exercise, a healthy diet and an incredibly positive attitude. Her athletic, toned 5' 5", 125 pound physique shows no signs of obesity and her mantra, "Believe It, Be It," has evolved from a top selling book to a motivational speaking business that keeps her busy speaking to women's groups and at fitness events across the country.
Expanding the brand even further, Ali announces her new Believe It, Be It Workout Music Series. The series will launch with two compilations – one for beginners and one for advanced fitness enthusiasts.
"The first few moments of a workout is always the hardest part, regardless of a person's fitness level. The songs on my compilations will help jump-start your energy and attitude, making your workout more fun and effective," says Ali.
Ali partnered with hit music-makers, Yes! Music, the fitness industry's number one go-to source for workout music and innovative music technology. Yes! Music will release two volumes of Ali's Believe It, Be It Workout Music collection this Tuesday, May 24, 2011 on iTunes (key word search: "Ali Vincent"). This is the same day that Ali makes a guest appearance on The Biggest Loser Finale, where she'll witness the exciting announcement of this season's winner.
With a personal passion for inspiring other women to rebel against their weight issues like she did, Ali's Believe It, Be it Workout Music collection features inspiring songs that will resonate with those that will walk in her footsteps. The beginner volume 1 play list features iconic, "girl power" pop music originally made famous by female artists like Madonna, Cyndi Lauper, Rihanna, Mariah Carey and Queen Latifah. The advanced volume 1 workout lineup features songs made popular by country artists like Taylor Swift, Carrie Underwood, Martina McBride, Shania Twain and more. Each volume comes with a digital booklet filled with inspirational words and helpful diet tips tailor-made for anyone following a healthy lifestyle program. All tracks have been remixed to consistent beats-per-minute that suit a beginner and experienced exerciser.
Ali and Yes! Music will release the next 2 volumes in the series this summer.
About Yes! Music:
Yes! Music is a game-changing fitness music production company that offers the hottest, hippest music in the fitness industry. In addition to a CD/download library of hundreds of premixed albums for fitness instructors, Yes! Music also boasts a single song catalog of more than 18,000 recordings making Yes! one of the most sought after resources in the industry. Yes! Music has also released a pioneering APP for the iPhone that allows users to adjust the tempo of the music in their library up or down by 24% to suit their needs. Yes! Fitness Music is committed to the spirit and passion of fitness professionals and seeks to connect them with the music they need to teach incredible classes.
###