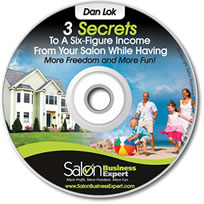 I show salon and spa owners how to build a business, not create a job.
Vancouver, BC (PRWEB) May 24, 2011
Dan Lok, sought-after public speaker and multi-millionaire entrepreneur, announces the release of his free CD, "3 Secrets To A Six-Figure Income From Your Salon While Having More Freedom And More Fun!"
For a limited time, Lok will be giving away free copies of the CD to the first 250 people customers who order it.
The CD, available at http://www.salonbusinessexpert.com, reveals key components to running a profitable salon business while making more money and working less.
"I show salon and spa owners how to build a business, not create a job." Lok explains.
Lok and his fiancée are the owners of the popular beauty salons in Vancouver, BC, and they have achieved success even though they opened their business during a recession, with no prior beauty business experience, in an area saturated with competition.
Despite all this, Lok used the lessons he learnt from past businesses to build a thriving salon which had a waiting list before his salon even opened. The salon was profitable after the second month.
Now, in addition to continuing to run his successful salon, Lok helps other salon and spa business owners achieve success too.
On his CD, Lok talks about his humble beginnings, his early struggles, and how he learned from his mistakes after founding a series of failed businesses, now enjoying a stress-free lifestyle and supporting his family in style.
And he reveals crucial information for salon and spa professionals including how to attract better quality clients, how to escape price competition, how to avoid being a slave to the salon business and have more free time and a better quality of life, and many more priceless gems of information.
The CD is available for free on Lok's website at http://www.salonbusinessexpert.com, on which he provides numerous tools and resources for spa and salon promotion, showing other salon and spa business owners how to avoid the mistakes that he made early on, and fast-track their way to success.
The advice that he gives is the same advice that he gives at sold-out business conferences and expos around the world, sharing the stage with people like Robert Kiyosaki, New York Times best selling author of Rich Dad Poor Dad, and George Foreman, heavyweight boxing champion and author of Knockout Entrepreneur.
Those wishing to obtain the free CD or learn more about Lok may visit http://www.salonbusinessexpert.com
###