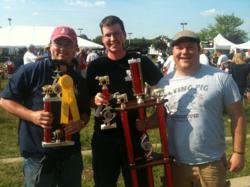 "It's rewarding for us to know that we're making barbecue sauces and rubs that are pleasing the tastebuds of everyone from the backyard BBQ'er to the seasoned competition barbecue judge!" ~Heath Hall, President & co-founder of Pork Barrel BBQ
Washington, DC (PRWEB) May 23, 2011
The competition barbecue team of Pork Barrel BBQ, the nation's fastest growing barbecue sauce company, was awarded the Reserve Grand Champion title, trophy and prize money this weekend at the second annual Middletown BBQ Cook-off in Middletown, Delaware. The Kansas City Barbecue Society certified judges awarded Pork Barrel BBQ high scores in each of the four contest categories – chicken, ribs, brisket and pork – earning the team the title of Reserve Grand Championship of the state championship contest.
Pitmasters from 47 barbecue teams entered the competition including 2009 Jack Daniel's World Champion Chris Hart of the IQUE barbecue team. The event, sanctioned by the Kansas City Barbecue Society, is the only state championship in Delaware with the winner receiving an invitation to compete in the prestigious Jack Daniel's World Championship of Barbecue contest in Lynchburg, Tennessee.
The Pork Barrel BBQ competition team competed in the Memphis in May World Championship Barbecue Cooking Contest last weekend in Memphis, Tennessee with the world's top pitmasters. The judges at Memphis style sanctioned competition placed Pork Barrel BBQ Mustard Sauce in the top 15 among more than 250 competitors from around the world.
Pork Barrel BBQ is quickly becoming America's favorite barbecue sauce. In 2008, co-founders Heath Hall and Brett Thompson began making their award winning barbecue sauce in their home kitchens, and have experienced unprecedented success over the past two years with their booming barbecue sauce business. Their Pork Barrel BBQ Original BBQ Sauce won second place in the Nation's Best Barbecue Sauce contest at the Safeway National Capital Barbecue Battle and was recently named Best Sauce in America and one of "The 125 Best Foods for Men" by Men's Health Magazine.
Pork Barrel BBQ has become a prominent example of entrepreneurial and start-up success. The company's award-winning BBQ sauces and dry rub are now sold in over 1,300 stores across America including Whole Foods, Safeway and Costco, its inaugural cookbook, the free Pork Barrel BBQ Guide to Tailgating, received praise from food and sports fans across America, and the co-founders continue to gain support from avid barbecue fans with their top-ranked Pork Barrel BBQ Blog and by being the number one most-followed BBQ sauce company on Twitter.
The co-founders, widely recognized for their appearance on ABC's hit reality TV show Shark Tank, are featured in "shark" investor and real estate mogul Barbara Corcoran's recently released national best-selling book, "Shark Tales".
"Other entrepreneurs dream about putting their product in every store in America, but only my partners Heath Hall & Brett Thompson of Pork Barrel BBQ actually do it," said Barbara Corcoran, star of ABC's Shark Tank. "The genius of these unconventional guys is that they not only have the ability to cook-up a new idea a minute, they are willing to hustle and stay the course until it's done. If I could only get Heath to wear a pig nose to enhance his natural resemblance to an adorable pig we could get Frank Purdue to roll over in his grave!"
The entrepreneurial-minded Hall and Thompson recently launched the world's first social network dedicated exclusively to barbecue, BBQ Backyard, and the company is in final preparations to open its first restaurant in Alexandria, Virginia this summer.
"It is an honor to be named Reserve Grand Champion of the Delaware State Barbecue Championship where some of the nation's top pitmasters competed this weekend," said Hall, President and co-founder of Pork Barrel BBQ. "It's rewarding for us to know that we're making barbecue sauces and rubs that are pleasing the tastebuds of everyone from the backyard BBQ'er to the seasoned competition barbecue judge!"
For more information about Pork Barrel BBQ or to locate a store near you that offers Pork Barrel BBQ products, visit the company's website http://www.porkbarrelbbq.com and read the latest updates and adventures on Facebook, Twitter and the company's blog.
About Pork Barrel BBQ
Pork Barrel BBQ was founded in December 2008 during the peak of the economic crisis to prove that a company not owned or operated by the federal government could succeed, and that if you had a good idea, it was still possible to grab a piece of the American Dream. Pork Barrel BBQ founders, Heath Hall and Brett Thompson, ran the company out of the basement of their houses, selling their award winning BBQ products one bottle at a time. In less than one year, their Pork Barrel BBQ Sauces and Spice Rub were carried in over 1,000 stores in 38 states. Throughout their journey, they have stayed true to their mission – to unite the nation through the great tradition of BBQ, and bring bipartisan flavor to your next meal. The Pork Barrel BBQ Competition BBQ Team entered its first contest, The Safeway National Capital Barbecue Battle, in June 2009, and walked away with two trophies – Second Place in the "Nations Best BBQ Sauce Contest" and Fourth Place for their pulled pork in the Memphis In May portion of the contest. Since then, the team has won multiple awards, including the "People's Choice" award for best BBQ sauce in 2010 and other notable Memphis and May and Kansas City Barbecue Society BBQ competition accolades as well as having their Pork Barrel BBQ Original BBQ Sauce named Best Sauce in America and one of "The 125 Best Foods for Men" by Men's Health Magazine in November 2010. For more information, visit http://www.PorkBarrelBBQ.com or follow Pork Barrel BBQ on Facebook and Twitter.
# # #