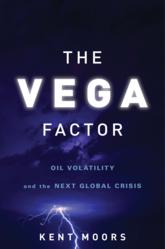 "The coming oil crisis," says Dr. Kent Moors, "could be larger than the housing collapse and the mortgage debacle. We are rapidly moving toward a deterioration in the oil sector that will affect the world in ways not previously imagined."
Pittsburgh, PA (PRWEB) May 31, 2011
Dr. Kent F. Moors, professor at Duquesne University, and founding editor of "The Oil and Energy Investor" is an internationally recognized expert in global risk management; oil and natural gas policy; and finance and investing. His new book "The Vega Factor: Oil Volatility and the Next Global Crisis" will be released on May 31. (John Wiley & Sons, ISBN 978-0-470-60208-9)
"The coming oil crisis," says Dr. Kent Moors, "could be larger than the housing collapse and the mortgage debacle. We are rapidly moving toward a deterioration in the oil sector that will affect the world in ways not previously imagined."
"The Vega Factor: Oil Volatility and the Next Global Crisis" takes an in-depth look at the reasons why oil prices will never again be reflected by fundamentals of supply and demand. Instead, it will be controlled by traders and the widening disparity between the price of "wet" barrels and "dry" barrels.
The World saw how speculators ran up the price of oil in 2008—and now the situation is ripe for an even bigger run-up, while current government approaches have only worsened an already bad situation.
"The Vega Factor: Oil Volatility and the Next Global Crisis":

Details the industry's players, including companies, traders, and governments.
Describes the priorities that will need to be revised, and the policies needed to achieve stability.
Explains how today's oil market is fundamentally different—and a potential powder keg--- from the pre-crisis market.
Oil prices affect everyone. "The Vega Factor" explains the new international oil environment of increasing consolidation and decreasing competition, and reveals how consumers and investors can navigate price volatility and new government policies.
About: Kent F. Moors, Ph.D.
Kent Moors is Professor in the Department of Political Science and the Graduate Policy Center at Duquesne University, where he is also Scholar in Residence at the Institute for Energy and the Environment. An internationally recognized expert in oil and gas policy/finance and risk assessment, Moors is also president of ASIDA, Inc, an international oil and gas consulting firm; and executive managing partner of Risk Management Associates, International, LLP; Editor of The Oil and Energy Investor, Energy Advantage and the investment alert service The Energy Inner Circle; frequent contributor to Money Morning; and contributing editor to Thomson Reuters' Russian Petroleum Investor and Caspian Investor, Moors also advises Wall Street analysts, hedge fund and asset managers worldwide. Moors has appeared over 1,500 times as a media commentator worldwide. His over 750 publications and over 250 presentations and workshops have appeared in 44 countries.
For an interview with Dr. Kent Moors, please call: Darlene March – 714-887-8021 or email: Darlene(at)marchmediarelations(dot)com.
Visit http://www.TheVegaFactor.com
# # #