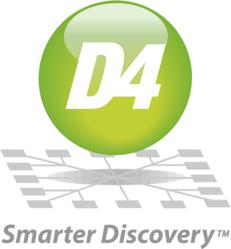 The combination of Digital Strata and D4's deep experience, people and know how into a single offering is very exciting for our current and prospective customers.
Rochester, NY (PRWEB) May 23, 2011
D4, LLC, headquartered in Rochester, NY, and Digital Strata of Campbell, CA, announced today they have finalized a Strategic Partnership that will bridge their computer forensic and end-to-end managed discovery services across the nation, forming the first alliance of its kind in the industry.
"No other group in this business spans the combined depth of our organizations," says John Holland, CEO of D4. "The combination of Digital Strata and D4's deep experience, people and know how into a single offering is very exciting for our current and prospective customers."
D4 offers end-to-end eDiscovery and digital forensic services nationwide, with offices in New York, Los Angeles, San Jose, San Francisco, San Diego, Omaha, Denver, Grand Rapids, Lincoln, Washington DC, Tampa Bay, Buffalo, and Rochester. D4 continues to grow and is in the process of opening additional offices on the west coast.
Digital Strata, based in the heart of Silicon Valley since 1994, has been providing managed discovery services for more than a decade. Digital Strata's process is powerful, flexible, secure, and robust, as proven in the legal departments of Fortune 500 customers, including industry-leaders in corporate law, manufacturing, high-tech, pharmaceutical, transportation, and biotech.
Both companies believe the Managed Service approach to litigation support will only continue to gain momentum. D4 and Digital Strata complement each other and cover the full spectrum of the EDRM Model.
Dan Fischler, Digital Strata's President, says, "The combined professionalism, expertise, and qualifications of D4 staff will bring additional value to our clients in the corporate and legal industries."
"Digital Strata has been on our radar for a long time," says Holland. "They are real professionals, incredibly knowledgeable and are just as concerned about quality of service as D4. We have always had a great deal of respect for the company and the people. We're proud to be aligned with them."
For more information about D4, please visit http://www.d4discovery.com
For more information about Digital Strata, please visit http://www.digital-strata.com
About D4, LLC
D4, LLC is national leader in litigation support and e-Discovery services to law firms and corporate law departments. D4 covers the spectrum of the Electronic Discovery Reference Model (EDRM), from identification and preservation of data through forensic and targeted onsite data collection; from data analytics and defensible search methodology through hosted review and production. D4 assists attorneys in litigation response planning, strategies for negotiation of scope and meet-and-confer, computer forensics, expert testimony and cost reduction practices in litigation support projects.
Founded in 1997 and through its combination and rebranding with Doculegal, D4 has grown to a national presence. With nearly 100 staff, D4 offers full-service locations in Rochester, Buffalo, Tampa, Lincoln, Omaha, New York City, Grand Rapids, and San Jose.. D4 fields consultants and project managers from New York, Colorado, Rhode Island, Michigan, and Washington DC, San Francisco and San Diego. State-of-the-art data center operations in Rochester are complemented by electronic discovery and litigation support paper document services throughout the United States. In 2010, D4 was recognized in the "Top Five" of the "Rochester Top 100", honoring the fastest growing companies in Western New York. For more information contact D4 at marketing@d4discovery.
About Digital Strata
Founded in 1994, Digital Strata streamlines complex and data-intensive legal processes through Managed Discovery Services and entity management applications. Digital Strata is employed by legal teams, law firms, businesses, and third-party legal service providers. They use Digital Strata to reduce the costs and increase the quality of their management of the discovery process and their governance of corporate entities. Through a deep understanding of both IT and corporate legal issues, Digital Strata enables their clients to dramatically improve their outcomes while controlling their costs.
###