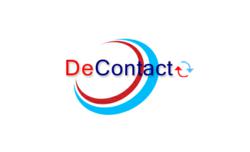 Get noticed outside
London (PRWEB UK) 24 May 2011
DeContact.com is a new Social networking site that is taking the world by storm it. Although there is still that strong element of social networking on cyber space, this is now combined with networking on the streets, aptly name street networking. But the question is how do you street network? The answer is below so read on.
DeContact Users will be able to Network externally like on the streets by purchasing a combination of various products with the brand and a username online. The products have a logo and website user's usernames on them as well as a symbol showing the persons interest. You can get 50 friends in one day just by walking around and wearing a DeContact T-shirt.
Take for example a person wearing a DeContact T-shirt with a logo and person's Username on it, with a symbol of football or name of the person's football club, anyone walking on the streets can see the person username on the T-shirt they're wearing, with a De prefix (symbol of website), and can take note of that name and the similar interest displayed and go home log onto the site and search for that username and BINGO they become football friends for life.
But that's not all DeContact.com has to offer. There is a breakdown of language barriers by enabling users to send and receive translated emails to each other online as well which is explained below.
The above process is known as "DeContacting" or "StreetContacting". This implies that you were discovered or noticed on the street. Some of the DeContact products are being placed on pets, disabled people, children, and soon on mobile phones as well as many other products so if anyone or anything gets lost, the guardians or owners can be contacted via DeContact to notify them that they have found their Pets, children, disabled family member.
Over 250,000 pets go missing in the UK and 10million in the USA, 800,000 kids go missing each year worldwide. people can contact you regarding your missing kids or pets or any other item. This can also be done by translated language on DeContact as such things and people can be lost in different Countries.
DeContact marks a new beginning of changing the way things are done and how people communicate with each other as well as protecting love ones. For more information check out the site here http://www.DeContact.com and click on about us.
###