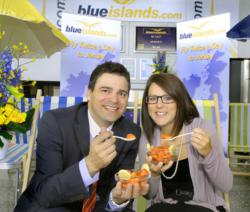 It is now practical to do business in the Channel Islands and return on the same day.

Bristol, UK (PRWEB UK) 23 May 2011
Channel Islands based airline, Blue Islands, launched a new service between Bristol and Jersey today (23 May).
The twice-daily flight is operated by a 19 seat Jetstream aircraft, and departs from Bristol at 09:40 from Monday to Friday, returning from Jersey at 16:20. A further flight is scheduled for Sunday afternoons at the same time as the second weekday service, which leaves Bristol for Jersey at 17:45.
The new route is expected to prove popular throughout the summer, with South West holidaymakers taking advantage of the short journey time to enjoy Jersey's beautiful beaches and mild climate. To mark the inaugural flight, a summer beach scene was recreated at Bristol Airport, with deckchairs and parasols at check in and strawberries and cream served to passengers.
Jason Wescott, Head of Sales and Marketing at Bristol Airport, said:
"Blue Islands' double daily service strengthens connections with Jersey, which has always had strong links with the South West. It is now practical to do business in the Channel Islands and return on the same day, and the improved frequency also makes Bristol an attractive shopping and city break option for Jersey residents – good news for Bristol hotels and attractions like Cabot Circus."
Managing Director of Blue Islands, Rob Veron, said:
"Today is an exciting day as Blue Islands begin to fly out of Bristol Airport with a direct route between Bristol and Jersey. We've identified that passengers want to be able to make the most of their day, so our twice daily service is perfect for the time poor traveller.
"Our schedule has been created to allow swift day travel to the Channel Islands, but the additional Sunday flights work perfectly for a weekend break in all destinations. I hope new passengers from Bristol will enjoy our brand, particularly the unique Blue Islands pricing policy that has no baggage charges, no credit or debit card charges and free ticket changes, which sets Blue Islands apart."
A convenient onward connection to Zurich is also available with Blue Islands via Jersey, offering the quickest journey time to the Swiss city from the South West.
Bristol Airport offers extensive onward connections for Jersey travellers with over 80 scheduled destinations across 22 countries served by direct flights.
Blue Islands' 'no hidden charges' pricing policy includes free ticket changes and no additional charges for baggage or credit card payment.
Ends
For further information please contact:
James Gore, Bristol Airport, 01275 475447 / 07717 896315
Jacqui Mills, Bristol Airport, 01275 473615 / 07712 792915
Blue Islands
Blue Islands offers a unique 'no hidden charges', pricing policy, which includes free ticket changes, no baggage charges and no card charges – 'A Welcome Difference'
Jersey – Bristol : Timetable
SI426 Jersey – Bristol Dep. 08.20 Arr. 09.20 Mon - Fri
SI427 Bristol – Jersey Dep. 09.40 Arr. 10.40 Mon – Fri
SI432 Jersey – Bristol Dep. 16.20 Arr. 17.20 Mon – Fri, Sun
SI433 Bristol – Jersey Dep. 17.45 Arr. 18.45 Mon – Fri, Sun
Fares start from £65 from Bristol and £59 from Jersey per person, per flight, for more information please visit the website http://www.blueislands.com
Bristol - Zurich : Timetable
SI4270 Bristol – Zurich Dep. 09.40 Arr. 14.10 Mon, Wed, Fri, Sun
SI9370 Zurich – Bristol Dep. 14.40 Arr. 17.20 Mon, Wed, Fri
The Jersey/Zurich/Jersey sector is operated by a 48 seat ATR500 series aircraft
Fares start from £139 (then £169 and £199) from Bristol per person, per flight. For more information see website http://www.blueislands.com
###