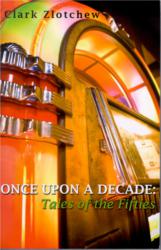 Some present adventure on the high seas as well as a glimpse of Havana night life on the eve of the Castro Revolution.
(PRWEB) May 24, 2011
"Once Upon a Decade: Tales of the Fifties," a collection of Clark Zlotchew's short stories has been selected as one of three finalists in the 2011 Next Generation Indie Book Awards in the short story category.
This is Zlotchew's 17th book, but the third of his own fiction. His other two books of fiction are: The Caucasian Menace (2010), an espionage/thriller novel, and TALON Force: Dire Straits (under a pseudonym, 2001), a military/action thriller.
Having his collection of short stories placed into consideration for a national literary award in the short story fiction category, and being one out of only three finalists, means that Once Upon a Decade: Tales of the Fifties is among the most exceptional independently published books of 2011. This was an unexpected delight for Zlotchew.
"This came as a complete surprise to me; I hadn't submitted my book to this program. In fact, I hadn't even known about the existence of this program," said Zlotchew, who indicated that his publisher (Comfort Publishing) had entered his book in the competition. And that, he notes, "was a very satisfying surprise."
The stories in this collection have very diverse plots and take place in locations as varied as New York, New Jersey, Savannah, Tokyo and Havana. The common thread holding them together is the fact that almost all of the 17 stories reflect the era of the 1950s, an era very different from the present.
All but two of the narratives in this collection paint a picture of the 195Os. Many of the elements of this culture will repel: racism, sexism and homophobia, for example. Yet this was an era in which neither the threat of terrorism nor the scourge of AIDS existed for the average American.
A thumbnail sketch of the variety encountered among these unique narratives can be seen in the following situations:
A man with a tortured psyche keeps a pink teddy bear on his food tray as he watches the Olympics on television. A waitress in New Jersey puts a curse on a sailor; his behavior becomes increasingly irrational. Two shipmates learn firsthand about segregation in 1950s Savannah. A timid adolescent suffers the pangs of unrequited love. A sailor who wants no more complications in his life falls in love with a young prostitute in Cuba on the eve of the Castro Revolution. An academic meets Jorge Luis Borges and uncovers the mystery of an American writer with three different names. The seventeen narratives of this collection deal with love and death, triumphs and defeats, adolescent angst and the tension between ethnicity and assimilation against the background of the 1950s. Some present adventure on the high seas as well as a glimpse of Havana night life on the eve of the Castro Revolution.
Excerpt :
"The boxers were banging away at each other. Go on, go on, go on, keep punching, Antonio, keep punching. I'm blasting away at the Cuban guy. He can't hurt me. I'm made of iron. His fists feel like friendly pats when he manages to land a punch, which he doesn't do too often, 'cause I'm fast on my feet, and I duck and weave. Jack be nimble, Jack be quick. But I'm punching the hell out of him. I'm creaming the bastard, creaming the Cuban, creaming my old man… What…?! Creaming my boss, I mean, that son-of-a-bitch Mr. Hanson. For an instant he saw Janey at the receiving end of his fists. Again."
The Next Generation Indie Book Awards program was established to recognize and honor the most exceptional independently published books in 60 different categories. This year's program is presented by Independent Book Publishing Professionals Group in cooperation with the Allen O'Shea Literary Agency.
Zlotchew will be listed as a finalist in the 2011 Next Generation Indie Book Awards catalogue that will be distributed at Book Expo America, the largest gathering in the U.S. held for book buyers, library representatives, media and industry professionals later this month in New York City. As a finalist, Zlotchew has also been invited to an awards reception at the Plaza Hotel in New York on May 24. He will also receive both a Finalist Certificate and a Finalist medal.
The Next Generation Indie Book Awards offers 67 cash prizes and awards and maximum exposure and possible representation with a leading New York literary agent to the top 60 books entered.
The Awards program is open to all indie publishers including independent publishers, university presses, self-published authors, e-book authors, seasoned authors and first time authors based in the U.S., Canada or internationally who have a book written in English and released in 2011 or 2012 or with a 2011 or 2012 copyright date.
###