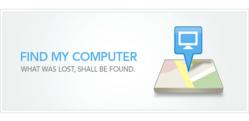 Backblaze gets your data AND computer back!
San Mateo, CA (PRWEB) May 23, 2011
Backblaze, an online backup provider offering unlimited backup for $5 per month, today launches Locate My Computer, a new feature that enables users to locate lost or stolen computers. Locate My Computer allows users to see the ISP, IP address, and location of the computer if it has been misplaced; even the thief's files if the computer was snatched by nefarious individuals. Locate My Computer is free to all Backblaze customers. After all, since Backblaze helps you recover lost data, why not your computer as well?
Since it launched, Backblaze has had customers write in frantically in hopes that an IP address can be provided so that users can forward that information to the authorities in attempts to track and recover their lost or stolen computers. Backblaze uses IP address's and wireless access points to identify the network being accessed and geolocate the computer.
As long as Backblaze remains installed and the computer can connect to the Internet, the Locate My Computer feature will enable users to access the:

Map - Use our map to get an accurate representation of where their computer is located
ISP - See the Internet Service Provider the account is attached to and obtain contact information
IP Address - Obtain the specific IP address the computer is using (imperative for police reports)
Thief's Files - Use the new "Date Range Restore" feature to see files uploaded after theft
As security and privacy are paramount, all mapping data is encrypted and users must sign-in to their Backblaze account to use Locate My Computer. New users will be automatically enrolled in this feature with the option to opt-out at any time, and existing users will be able to opt-in starting today.
Backblaze hopes to help users quickly locate and obtain both their information and computers back. ISP's and IP addresses play an instrumental part in the identification of exact computer locations and addresses, and allowing users to quickly retrieve this data can significantly increase the speed at which laptops can be recovered.
About Backblaze
Founded by a team of serial entrepreneurs with security, scalability, usability backgrounds, and located in the heart of Silicon Valley, Backblaze's mission is to ensure that all computer data is backed up. Backblaze was selected as a winner of the AlwaysOn Global Top 250 private companies for game-changing technology and market value. Backblaze provides a free trial and automatically backs up all data for just $5 per month per computer. Visit http://www.backblaze.com for more information or to backup your own computer.
# # #