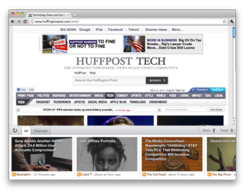 "Media properties are losing traffic and watching as their content is increasingly co-opted by social networks," said Layers CEO Marcos Cuevas
San Francisco, CA (PRWEB) May 24, 2011
Layers, one of a new breed of services designed to improve consuming and sharing content on the Web, has launched Layers for Publishers, a new service to help Web publishers meet their goals for driving traffic, increasing engagement and monetization of their content. The company also announced that it is seeking a select group of publishers to join a pilot test of Layers for Publishers.
The company first launched Layers for Google Chrome, a personalized social channel that offers an elegant, fluid way to see what your friends are sharing on social networks, letting all your networks flow together. With Layers you can share, discover and interact with everything you care about on one channel. Building on the success of the Chrome app, Layers for Publishers allows site visitors to easily share content with their friends and social networks without disengaging and leaving the publisher's website.
"Media properties are losing traffic and watching as their content is increasingly co-opted by social networks," said Layers Founder and CEO Marcos Cuevas. "Visits to media sites are down, negatively affecting ad revenue, while time spent on social media sites is at an all-time high. Layers for Publishers offers a more visually appealing view of your content, and it puts all of your content on one channel -- whether you have one property or 20 -- helping publishers drive traffic between sites and keeping visitors more engaged. In addition, sharing across Facebook and Twitter is done right from the Layers for Publishers toolbar, allowing visitors to easily share content, while keeping them where you want them: on your site."
An additional benefit of Layers for Publishers is that it puts more screen real estate on the publisher's site, providing an extra channel for advertising and creating a new monetization tool for content, both text and rich media. Layers is currently testing contextual e-commerce applications and other innovative content monetization approaches with a group of international content sites and blogging networks. To learn more about Layers for Publishers or to install the free app, please visit http://publishers.layers.com. If you are interested in learning more about joining the pilot test group, please contact Donna Gibbs at marketing(at)layers(dot)com.
About Layers
Layers is one of a new breed of services that represent the next logical step in the evolution of the Web. The company was founded in 2008, and is headquartered in Barcelona with offices in San Francisco. Layers has a loyal, rapidly-growing user base who are finding new and more enjoyable ways to consume and share content on the Web.
###