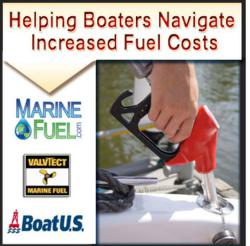 By simply submitting one request for today's prices in a specific area, members can save hundreds of dollars on fuel and related services at each re-fueling.
Stuart, FL (PRWEB) May 23, 2011
The 2011 summer boating season is upon us, and fuel prices are a hot topic for boaters everywhere. 75 million Americans, representing an estimated 32 percent of the U.S. population, are expected to enjoy one or more boating outings this year.
MarineFuel.com, BoatU.S. and ValvTect Petroleum Products have partnered to help make on the water adventures more affordable in 2011.
Providing free marina reservations and easy access to real-time, accurate and comprehensive data, the partnerships guarantee boaters will always have the most current information on details that affect their buying decisions. "Our Data Integrity Team ensures our members always have access to current fuel prices and availability, as well as real-time marina information and their discounts. By simply submitting one request for today's rates in a specific area, members can save hundreds of dollars on marina gas or diesel and related services at each re-fueling," said William McKenna, President and CEO of MarineFuel.com.
MarineFuel.com is the nation's leading online (and mobile) portal uniting boaters, marinas and fuel distributors with centralized retail fuel dock prices and marina information throughout the United States, Bahamas & Caribbean. "The introduction of tools empowering boaters to gain control over one of their largest recurring expenses, and brokering best priced fuel transactions between marinas, yachts, fishing tournaments, rendezvous and fuel distributors, has been a welcome logistical supplement for marine industry consumers and professionals, alike," said McKenna.
"ValvTect is proud to partner with MarineFuel.com to track fuel prices and provide an easy way for boaters to identify Certified ValvTect Marinas that market ValvTect Marine Fuels which are specially formulated to prevent fuel related problems caused by ultra low sulfur diesel and ethanol," said Jerry Nessenson, President of ValvTect Petroleum Products.
"BoatU.S. Members receive an exclusive 20% discount on MarineFuel.com's membership options helping our over 500,000 Members find the lowest fuel prices in their boating area. MarineFuel.com also makes it easy for Members to locate the 900 marinas that offer them discounts on fuel, transient slips, repairs and more by denoting participating businesses on their website," said David Mann, BoatU.S. Cooperating Marina Program Manager.
Boaters have shown terrific response to MarineFuel.com's Advanced Searching which quickly identifies specifics such as ValvTect Certified Marinas, BoatU.S. Cooperating Marinas and 100+ other information points including amenities, services and special promotions. Marinas and gas dock facilities participating in the partnerships are enjoying increased business activity resulting from the online promotions provided by MarineFuel.com's cutting-edge and geo-targeted marketing platform.
About ValvTect
ValvTect Petroleum Products is the United States' leading supplier of marine grade gasoline and diesel fuels that are specially formulated for marine engines and marine operating conditions. Valvtect marine fuels and additives are designed to improve fuel quality and performance while extending engine life.
About BoatU.S.
BoatU.S. ( Boat Owners Association of The United States ) is the nation's leading advocate for recreational boaters providing over half a million members with insurance, towing services and access to marina discounts.
About MarineFuel.com
MarineFuel.com centralizes and streamlines digital access to marina and fuel dock facilities information. Brokering best priced fuel transactions in the marine industry for boaters, marinas and wholesale distributors; MarineFuel.com serves an active 17 million boaters, 8,700 marinas and 1,500 boat fuel distributors in the United States, Bahamas & Caribbean.
For more information visit http://www.MarineFuel.com or call 888-431-0708.
###