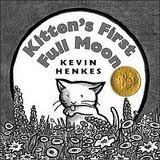 According to The New York Times Book Review, "Kevin Henkes is a genius..."
Stamford, Connecticut (PRWEB) May 23, 2011
Award-winning children's book author Kevin Henkes will be visiting the kindergarten and first grade class at The Long Ridge School in Stamford, Connecticut on Thursday, May 26, at 9:30 a.m. as the surprise ending to the class' year-long study of authors and illustrators. Mr. Henkes has been prized as an author with the Newbery Honor and as an illustrator with the prestigious Caldecott Medal.
According to The New York Times Book Review, "Kevin Henkes is a genius… And yet he isn't quite the household name that Dr. Seuss and Maurice Sendak are, though he should be." Henkes won his Caldecott in 2005 for "Kitten's First Full Moon," a story of a kitten who mistakes the moon for a big, bright bowl of milk and then tries her best to get a drink. Henkes has over 40 titles to his credit including Lilly's Big Day, Old Bear, and A Good Day.
The authors and illustrators theme incorporates language arts, mathematics, music and science to create a memorable learning experience for the children. The theme is particularly appropriate for this age group as it extends the children's natural love of art and literature as they become writers themselves. The journey has led the class through the works of authors Donald Crews, William Steig and Tomie Depaola. Next week, the first-graders will debut their own original children's books on "Author's Night."
Mr. Henkes is not the first acclaimed author to spend time with the students. Caldecott winner and Long Ridge graduate Ian Falconer '73, author of the popular Olivia series is a frequent visitor to his alma mater, and LRS student, Lauren Redniss, was recently at school signing copies of her buzz-worthy book, Radioactive: Marie & Pierre Curie: A Tale of Love and Fallout.
The Long Ridge School is an independent, co-educational day school for children in Beginners, Nursery and kindergarten through grade five. The school, which was founded in 1938, is committed to providing a joyful, and challenging education using meaningful, hands-on experiences that engage and inspire young children.
###