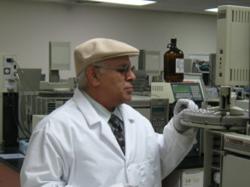 "You ensure conception, we ensure baby's gender"
Ann Arbor, MI (PRWEB) May 25, 2011
Urobiologics LLC is an internationally oriented business guided by executives and scientists who understand the cultural, economic, political, religious and individual factors that impact family choices across the globe. The economic conditions force couples to have small and balanced families for long term happiness leading to crime free communities. Regardless of parents' reasons for the need to influence family size and gender composition, Urobiologics' proprietary, U.S. and International patent-pending methods offer unprecedented privacy, certainty, convenience and value as compared to other commercial offerings and medical techniques.
Dr. Kuldeep Verma, Ph.D. is the founder and chief executive officer of Urobiologics™. He is also the biochemist who invented PreGender Test, and describes it as 'a new chapter in women's reproductive physiology not thought of by anyone else'. As Dr. Verma recollects on the beginnings of PreGender Test, "While conventional science appeared to support the presumption that a baby's gender is 'determined' by sperm bearing either X or Y chromosomes, I couldn't help wondering whether women had a role in baby's gender as well. I gradually discovered that women do 'influence' their baby's gender according to the particular set of inherent hormones in the uterus at the time of conception. Now, after over 25 years of research and testing, I'm able to offer a laboratory urine test that detects these hormonal differences around ovulation, and enables couples to naturally conceive the baby of desired gender."
The foundations of PreGender test lie on six amazing discoveries exclusively made by Dr. Kuldeep Verma focused on women's' reproductive cycle:
1. Women have an equal role in gender formation. While a baby's gender is ultimately 'determined' by sperm traits, the crucial step of 'sexual transformation' later is 'influenced' by the hormonal environment of the uterus at the time of conception.
2. Ovulation creates two types of hormonal environments in the uterus due to differences in hormonal composition of follicular fluid.
3. These environments clearly alternate during consecutive menstrual cycles. In one cycle, the follicular fluid may be relatively richer in testosterone; in the next cycle, it may be richer in estrogen. These hormones have opposing chemical properties. Whereas testosterone shows an oxidizing reaction, estrogens are reducing. These properties cancel out each other. Their relative concentrations make up the 'overall environment' of the uterus either oxidizing or reducing. There is higher chance of conceiving a boy when the uterine environment is richer in testosterone (oxidizing) and that of a girl when it is richer in estrogens (reducing). Fortunately, a urine sample can tell everything. (This is entirely different than pH. Some experts have been thinking that pH of cervical mucus may be important in swaying for conceiving a boy or a girl. They even suggested douching with acidic or alkaline solutions before the act which according to us is simply a layman's idea. Now it is clear that the cervical pH has nothing to do with gender swaying or gender prediction because pH may change with nutrition. Therefore, any gender prediction test based on urine pH will be less accurate than ours)
4. Conception in one type of environment favors either a boy or girl. For example, for a boy to be conceived testosterone must be relatively higher than estrogens in the uterus at the time of conception. Consumption of hormone supplements does not help; rather they may harm the body.
5. The process of conception "locks" the existing uterine environment that continues until the baby is delivered. This correlates with stoppage of menstrual cycles for nine months.
6. Urobiologics has developed uniquely reliable methods to identify those environments by testing mid-cycle urine and the techniques are covered in the following patent application: http://www.faqs.org/patents/app/20090233321. Other scientific publications support our hypothesis and have been described at our website: http://www.urobiologics.com/our_hypothesis.html.
Dr. Verma's cumulative efforts have produced unparalleled simplicity and ease of use for PreGender clients. A couple can begin the process by simply placing a confidential order via telephone or Internet. Urobiologics then mails materials for collection of urine samples, along with a prepaid envelope for properly sending the urine samples back to the Urobiologics laboratory. Customers are welcome to see us but are not required to visit.
As an example, suppose a couple wants to use PreGender Test for trying to conceive a girl. Urobiologics will initially apply its proprietary methods to test two mid cycle urine samples to identify the pattern of the hormonal environment. If cycle 1 is found to be conducive for conception of a girl and cycle 2 for conception of a boy, this woman is interpreted to have alternating gender-specific cycles. Cycles 3, 5, 7, 9 and beyond would then be identified as suitable for conception of a girl. The PreGender Test results in this example prescribe that the couple should avoid conception during cycles 4, 6, 8, 10 and beyond because those cycles may result in a boy conception. About 80% women have alternating cycles. Proper knowledge of gender specific cycle helps in streamlining your effort to conceive the desired baby naturally.
No additional testing is needed for at least six months. Even if there is no viable pregnancy within that time, Urobiologics recommends one preconception test any time thereafter to reposition the family planning effort. This is because of an important phenomenon identified by Dr. Verma (see discovery #5 below), that even a short term undetected conception can temporarily 'lock' the hormonal environment and may disturb the sequence.
Dr. Kuldeep Verma cites an interesting story which sums up all of the above. A customer from Australia was trying to conceive a girl and collected preconception urine samples for November and December 2010. She went to UPS office to ship them to us but UPS refused to accept the package because it was not packed properly. The same day the customer had a family emergency and had to go away for three weeks and decided to ship them afterwards. When she came back she learnt that she is pregnant. Dr. Verma requested her to collect post conception sample immediately and ship all the three samples for testing. It was thrilling to find that the sample collected in November was conducive for boy (overall oxidizing) and that of December was for girl (overall reducing). Obviously she got conception in December and her post conception test also detected a girl. The customer is holding that girl now. No other gender swaying technique was used by this customer.
Urobiologics' pioneering methods have been observed to produce intended outcomes for four out of five couples which is practically a higher success rate. The 20% failure rate is due to the fact that, for example, some X chromosome bearing sperms can be hardy enough to survive through high testosterone environment, resulting into a 'relatively aggressive girl'. There is nothing wrong with that baby. Dr. Verma states emphatically, "It appears that the uterine hormones pose a natural selection pressure on X and Y chromosome bearing sperms due to forces of chemotaxis (i.e. sperms know where to go as per this video: http://www.livescience.com/794-sniff-swim-sperm-find-eggs.html ). That may be the reason for a high success rate of this program. That is why we are tempted to say, 'you ensure conception, we ensure gender.' While we cannot make imperfect human biology perfectly predictable, for many of our clients, those keep - trying days are over."
In addition to developing PreGender Test, Dr. Verma is also proud to present its post - conception companion; FirstGender Test. This is the most accurate and earliest gender detection test in the world and can be done as soon as one detects pregnancy. He chooses to be diplomatic but firm about competitive matters, stating: "Urobiologics is the only company offering this kind of pre-conception gender planning service based on real tests, as opposed to certain companies who may as well be selling astrological charts. If someone promises to guide your gender planning effort without using any valid testing process, it is probably a scam and is not going to work. Consumers must set aside ideas about body pH, fast & slow moving sperms, moon phase theories, especially the silly idea of acidic/alkaline douching and other hearsay. Internal natural sex hormones at the time of conception control the show and nothing else. Specific hormones may make specific sperms to move faster and thrive longer. Therefore, to conclude that certain sperms 'always' move faster or stay long is erroneous."
The PreGender Test is 100% natural and non-invasive. The customers do not have to travel to our lab because urine samples can be sent by mail. No medication is suggested, and nothing else is sold. Conception effort is done by couples themselves. A pair of PreGender Tests is priced at $300 for U.S. customers and $350 and up outside the U.S (including shipping costs). This is much cheaper than spending $10,000 for sperm separation and another $10,000 for insemination. Results are kept confidential and disclosed only to our customers. If readers are still in doubt or all of this appears too good to be true, request your physician or any scientist to discuss with us.
For more information about the PreGender Test for gender planning and FirstGender Test for gender detection, please visit http://www.urobiologics.com, or call toll free at 1-877-HE-OR-SHE (1-877-436-7743) or direct at 313-574-7500 in USA or Email: urogender(at)urobiologics(dot)com.
###