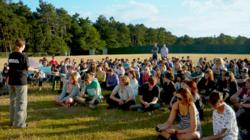 PAAM will process over ten thousand applications this summer...
(PRWEB) May 25, 2011
The popular event management software package PAAM is set to have yet another successful festival season this year, taking over a thousand applications within the first 24 hours of going live for Hotbox Events. This beats all previous year's application figures, with plenty more to come for the rest of the festival season.
In total, PAAM will process over ten thousand applications this summer for both staff and volunteer positions, covering festivals including Glastonbury, Reading, Leeds, The Big Chill and Latitude. More organisations including Nu Kleen Services are now turning to PAAM to help manage their event recruitment processes and staff management.
PAAM is an event management software package designed to help organisations recruit and manage anything from a few staff members to thousands of staff and volunteers for the biggest of events. Having started life as a humble online form, PAAM has grown into a fully functional recruitment package allowing clients to easily create roles, recruit staff and manage the whole process from start to finish.
Matt Hettle, Operations Manager DC Site Services says:
"Working in the event industry we need to be able to access files and information from anywhere and get the same to our staff quickly and easily. PAAM provides us with a fast and reliable conduit to our workforce both when we're in the office and when we're onsite at an event.
Recruiting and managing thousands of staff for a large variety of events is an administration heavy task; my office used to be full of paper and files but with PAAM's help it's now close to paper free. DC Site Services is again very happy to be using PAAM to assist us with the 2011 festival and event season."
# # #