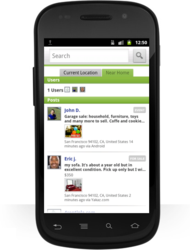 Yakaz Android app is built to help users share, sell and communicate locally on the go.
(PRWEB UK) 24 May 2011
The latest version of the Yakaz Android app is now available to download for free. The classifieds platform adds major enhancements and features to its Android service to make searching and posting of classifieds on the go even easier.
Yakaz.com has been offering the best of local listings on the web for 5 years. In late 2010, the classifieds search engine was fully revamped, bringing real-time and a social dimension to the classifieds world across 190 countries. 15 million monthly users were now able to post ads, chat with one another, and discover hidden gems right on their doorstep.
"At Yakaz we pride ourselves on innovation. The new Yakaz is a move away from static adverts, helping users not only find classifieds on the web but also giving them the possibility to share, sell and communicate locally," say Mathurin Ducastelle and Frédéric Mahé, Founders, Yakaz. "We want to reintroduce people to their neighbor, helping people find what they need, where they need, when they need it."
A few months later, Yakaz has brought local classifieds to Android phones.
The app, developed in-house at Yakaz, features millions of local listings and recommendations. Users can search through the application to learn what's for sale in their immediate vicinity, post ads for free, and contact other users directly through integrated real-time communication tools.
In this new version of the app anyone can track local classified adverts by location, category, price etc. Advanced search tools allow finding exactly what you want even faster: For example, someone looking for a used white Toyota Prius for less than $10,000 will directly have these criteria taken into account in the results. Users will also have access to their saved searches and favourite ads directly from their mobile devices.
Features of the new Yakaz Android app:

Integration of advanced searches
Display of saved searches
Advanced search save option
Invitations to Yakaz can be sent directly from the phones contact list
Lower memory consumption
Next / Previous buttons in search result, for more confortable reading
Reverse geocoding of current location in search results.
Yakaz app is free, available worldwide in 20 languages (including English, French, Spanish, German and Italian) across the Android Market. It is the first-to-market Android app that combines millions of listings along with real-time social tools. It is also available for iPhone and iPod Touch.
The Yakaz Android application can be downloaded here: http://market.android.com/details?id=com.yakaz.
For more information on Yakaz mobile applications, visit http://www.yakaz.com/about/mobile.php.
###