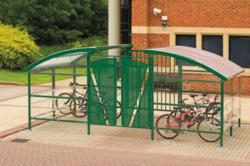 (PRWEB) May 24, 2011
The popularity of cycling in the UK has surged in the last decade. This has been helped by popular initiatives, like the 'Cycle to Work' scheme, and numerous studies showing the health benefits of travelling on two wheels. To help cycling's growth, storage equipment specialist Action Storage has announced how it can provide employers with the facilities they need to encourage more people to cycle.
The 'Cycle to Work' initiative offers employers tax savings on the purchase of bikes which they can then rent to employees. The scheme has been a great success, with 260,000 people and 15,000 employers benefiting from savings of up to 40% on the cost of a new bike. Along with the financial savings have been the health benefits. A recent 'Cycle to Work Alliance' study found that 87% of people using the scheme noticed their health improving and 98% would encourage their colleagues to participate.
The health benefits of cycling have also been highlighted in a study by the University of Wales in Cardiff (UWIC). It assessed that cycling could potentially save employers £302 million a year by reducing absenteeism from short-term illness. The study analysed the impact of installing bike shelters and facilities on university campuses in 2007, and found that the dramatic increase in the numbers of students and staff cycling to University correlated with a decline in absenteeism from short-term sickness.
The need to get more people active and cycling was the focus of a government health white paper – 'Healthy Lives, Healthy People. Released Nov 2010, this stated that "active travel and physical activity has to become the norm in communities" in order to combat the threat of rising obesity. Half the country is already classed as overweight, and its estimated obesity will cost the UK economy £50 billion by 2050.
To encourage more people to cycle, employers need to provide employees with secure storage facilities, for both bikes and cycling equipment. Action Storage provides a range of cycle shelters, racks and bike loops to suit budgets and the available space.
This includes a lockable cycle shelter that can hold up to 48 bikes, and has a polycarbonate roof for protecting them from the weather during the day. Action Storage also supplies free standing shelters, which can store up to 8 bikes, as shelters that are wall mounted to save space. If only a few bikes need to be locked securely, Action Storage can supply various styles of bike racks, including bike loops, claw racks and contemporary stands.
For storing cycle lights, waterproof clothing and helmets, Action Storage supplies the unique and innovative range of eXtreme Plastic Lockers®. Made from hardwearing polyethylene, these can be stacked outdoors under cover without the risk of them rusting in the rain, and their hard wearing shell is durable enough to resist break in attempts with a clawhammer.
Further information on the bike shelters, bike racks, eXtreme Plastic Lockers® and the 4000 other products in Action Storage's range can be found on its website, where you can also order its 180 page full colour catalogue free of charge.
About Action Storage
For 25 years Action Storage has supplied shelving, racking and other storage equipment using the latest materials and innovative designs. Its clients include supermarkets, warehouses, government offices, schools and anyone else requiring high quality storage systems throughout the UK and mainland Europe.
Action Storage prides itself on its high service levels, and provides a free, unique advice line for discussing your requirements and assessing the perfect storage solution.
For service enquiries contact:
Website: http://www.action-storage.co.uk
Tel UK: 0800 592215
Outside UK: +44 (0)1908 525700
Fax: +44 (0)1908 321650
Action Storage
6 Fitzhamon Court
Wolverton Mill South
Milton Keynes
Bucks
MK12 6LB
http://www.bikebiz.com/news/read/obesity-will-cost-uk-50-billion
http://www.bikebiz.com/news/read/your-staff-aren-t-cycling-to-work-thatll-cost-you-600
http://www.cyclescheme.co.uk/employers
###