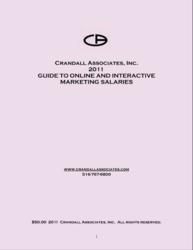 This Guide is an invaluable resource for salary information in Online and Ecommerce marketing.
Port Washington, NY (PRWEB) May 24, 2011
Crandall Associates, Inc. is an executive search firm specializing in direct and online marketing. We recruit nationally, for management positions ranging from Manager to President.
Through hundreds of executive searches and conversations with thousands of online marketing professionals, Crandall Associates compiles data, updated annually, on salaries for online marketing professionals. The information is garnered from practitioners on both the client side and the agency side, business-to-business and business-to-consumer. The Guide, which features 21 positions in online and ecommerce marketing, provides job titles plus descriptive bullet points for these positions, with a low, average and high salary for each one.
The salaries range the gamut from VP Ecommerce to Affiliate Manager, Digital Media Buyer to Website Manager, Email Marketing Manager to Director of Internet Marketing, and many others, with regional variations for each position.
As the online channel has expanded to include ever more specific roles in SEO, web analytics, and ecommerce, so has our Guide.
To order the 2011 Guide to Online Marketing, please visit our website.
# # #