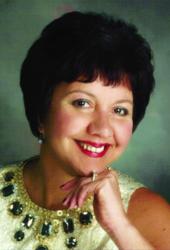 Offering readers a glimpse into Louie Morelli's world.
Detroit, Michigan (PRWEB) May 31, 2011
Patricia Bellomo, author of the crime thrillers, Louie Morelli's Daughter and Stella di Mare, has started blogging on her website. But don't expect politics or current events or even news relevant to writers. What Patricia Bellomo offers is a unique blog written in the voice of her main character, Louie Morelli. A new addition is a second blog being authored by a character from her recently released crime thriller, Louie Morelli's Daughter.
With titles like "My Son Hired a Hooker", "Legal Trouble in Lake City", "Louie's Double Date" and "South Beach Pimp", the articles are two- to-five paragraph excerpts reflecting things happening in Louie Morelli's life. The fact that Louie Morelli is a fictitious person is not always evident, and the blog reads like real-life. Occasionally, there might be references to one or both of Patricia Bellomo's books, usually relating to a specific scene or place. More common, though, is the daily occurrences of a man who doesn't even exist.
Louie Morelli is an unusual character. He's a savvy south Florida entrepreneur who Patricia Bellomo describes as "looking like an Italian movie star". Born and raised in New Orleans, Louie Morelli is the son of a deceased crime-boss who conspiracy theorists credit with masterminding JFK's assassination. Although Louie's days with the New Orleans underworld are supposedly a thing of the past, he has connections everywhere. And when things go wrong, he delivers justice his way.
In Patricia Bellomo's books things always go wrong, and in her blog situations arise in which Louie resorts to gangster tactics. What makes the blog so unique is the strength of Louie's character and voice. He seems an unlikely invention for a middle-aged female author.
"When people learn I'm a writer, they automatically assume romance," said Patricia Bellomo. "And while there are certainly romantic elements to my novels, these are not romances. Louie Morelli is the quintessential bad boy. He's very charming, and he gets a lot of women. People new to my books or blog are sometimes shocked to learn Louie is married. Robin Macblane on the Larry Whitler Show in Ocala, Florida, asked if it was difficult for me—as a married woman—to write about infidelity, and I had to say it was not. Infidelity is a part of who Louie is. I'm not trying to glamorize or encourage it—but it's part of a lifestyle, and I give readers a glimpse into this world."
How does Patricia Bellomo know so much about this lifestyle? "I've been a girlfriend and then a wife," she says. "In Goodfellas there was a line about Saturday nights being for wives and Friday nights for girlfriends, and I'd have to say this is true. I'll go even one step further and admit that I've socialized with the girlfriends on one day and with the wives on the very next."
Patricia Bellomo likes to remind people that her blogs are pure entertainment. "Plus, they're free," she says, "and a good way to acquaint yourself with Louie's character."
The second blog Patricia Bellomo is now writing is written from the point of view of an older Detroit sports-book named Vito. This character, Vito, has a small role in Louie Morelli's Daughter. A secondary player, Vito does Louie a favor. Again, he seems an unlikely voice—first because of his age and gender, and secondly, because he seems awfully real. Vito's blog tends to deal more with gambling and the trials and tribulations of being a survivor from another era.
There's a rumor Patricia Bellomo's husband, Vince, is a former sports-book, but she dismisses this. "I'd say the keyword here is rumor. For the record, my husband is a retired auto-worker. Plus, my characters are never based on actual people. It's all fiction."
###