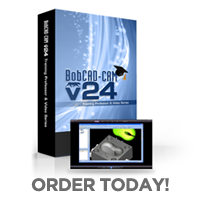 This BobCAD-CAM CAD/CAM training package gave my shop the edge it needed!
Clearwater, FL (PRWEB) May 24, 2011
Computer Aided Design & Manufacturing software developer, BobCAD-CAM has released its latest software training product for all of their customers offering them a unique opportunity to learn their CAD/CAM software through doing step by step written exercises that are then followed up by corresponding training videos. As opposed to earlier training products which contained hundreds of small individual training videos, this new product teaches them not just how to draw their parts from beginning to end, but it includes all of the machining steps necessary to producing an NC program for their CNC machine in the same written exercise. Once the person has completed the written parts, they can sit back and watch the same part being taken step by step through the entire toolpath and machining stage through demonstration. This method adds more detail to the written lesson and answers questions that may have come up by doing the written exercise. In addition to the written and video training, each of the exercise corresponding CAD files are also included in the case that CAD design training is not necessary for the customer and just the CAM aspects are needed. Thus saving the customer time and speeding up the entire training process.
"This new training series addresses the most important aspects of training our customers and gives them a variety of ways in which they can learn to make their parts faster, smarter and easier," says a senior BobCAD-CAM executive. "It's what our customers have been asking for, for years and we're very excited that they finally have it!"
In addition to the sheer volume of this new training product, care was taken to add a balance of text instruction as well as system images and pictures so that even the newest customers could visually identify with design and machining features within the software while training. This new BobCAD-CAM training series comes on 2 CD's and is now available.
For more information on this new BobCAD-CAM software training package and other training opportunities, contact BobCAD-CAM at 877-262-2231 or 727-442-3554 or visit http://www.bobcad.com.
###