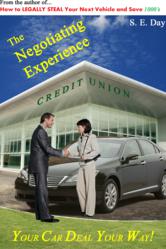 We believe The Negotiating Experience will help our members save money with their next car purchase.
Tampa, FL (PRWEB) May 25, 2011
Less than six months after writing his first book, "How to Legally Steal Your Next Vehicle and Save $1000s" (http://www.amazon.com), author and radio show host, S.E. Day signs a book purchase and relationship agreement with Grow Financial Federal credit union. Mr. Day's second book, "The Negotiating Experience, Your Car Deal Your Way!" was written specifically for the credit union industry and its members. "The Negotiating Experience" discusses the challenges associated with purchasing a vehicle and teaches members the auto industry's insider tricks of the trade. The book uses six thought-provoking chapters to diminish the fears of car-buying and empower consumers to negotiate better and purchase smarter while saving thousands of dollars. "The Negotiating Experience" is released by LSS Books and is only available thru Grow Financial.
Mr. Day advised that his book provides real-world tactics, techniques, and strategies allowing members the tools needed to successfully negotiate the purchase price, trade-in value, interest rates, finance charges, and insurance rates for their new or pre-owned vehicles.
"I'm a staunch supporter of the credit union movement with years of credit union background knowledge. I believe credit unions such as Grow Financial offers better financing options to its members. Since car-buying can be a daunting experience, I wanted to provide Grow's members with the knowledge to combat tactics and secrets used at the dealerships and encourage them to use their credit union financing over traditional financing options," states S.E. Day, Author & Talk Show Host.
"For our members who are not comfortable with the car-buying experience, and even those who want to become better negotiators, we believe The Negotiating Experience will help them save money with their next car purchase, as well as for the years they choose to finance their car. We simply believe that a more financially educated member will make better financial decisions - and we're here to help our members," Wes Strickland, Sr. VP of Marketing of Grow Financial
About the Author
S.E. Day is an auto industry insider, expert negotiator, talk show host, automotive journalist, and professional speaker. Mr. Day has been featured on national television, radio shows, and in many articles and has fastly become an industry expert on vehicle purchasing and negotiating.
About the Company
The Legally Steal Show™ is a talk format venue to help consumers equalize the playing field by giving insight on issues that most to the consumers' wallets. The internet show and the local show air on Saturdays at 10 am E/T on BlogTalkRadio at http://bit.ly/LSSradio. Interested in getting the book for your credit union, please contact 819-379-7248.
###