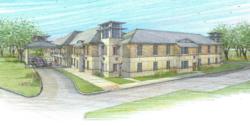 "We have been scouting several markets for quite some time and honestly believe this is one of the best locations we have ever discovered," described Charles Turner, Principal of PinPoint Commercial.
Houston, TX (PRWEB) May 24, 2011
PinPoint Commercial, LP, Outer Marker Properties, LLC ("Outer Marker"), and FTC Architects announced today the upcoming ground breaking of The Legacy at Georgetown, a 95,000 sq. ft. assisted living and memory care facility in Georgetown, Texas. The site is located at the front entrance of Del Webb's Sun City, one of the largest age-restricted residential communities in the United States. It is adjacent to the full-service, Scott and White Georgetown Clinic, making it ideally situated to compliment the success of Sun City, while also taking advantage of the state-of-the-art medical care available next door. The anticipated opening is scheduled for spring of 2012.
The Legacy at Georgetown will be positioned on approximately 4.5 acres of land and is designed to contain 120 total units, with approximately 80 units dedicated to assisted living and 40 units devoted to memory care. The site is currently occupied by ERA Colonial Real Estate at 4909 Williams Drive in Georgetown. Plans call for the current structure to be demolished and ERA Colonial to relocate to a brand new facility less than 50 ft. from its existing location.
"We have been scouting several markets for quite some time and honestly believe this is one of the best locations we have ever discovered," described Charles Turner, Principal of PinPoint Commercial. "Our ability to meet the needs of Sun City residents and other surrounding communities, as well as partner with local medical providers, offers us an unprecedented opportunity."
The expansive property of The Legacy lends itself beautifully to walking trails which have been designed along two enclosed courtyards. The interior layouts incorporate the latest trends in the industry—elegant, yet still comfortably designed for today's generation of seniors. The upscale décor will be accented with luxurious interior furnishings and finishes.
"Technology was central to our design of The Legacy at Georgetown, both in amenities offered to residents and in the care provisions we are implementing," explained Jeramy Ragsdale, co-founder of Outer Marker Properties. "Residents will have access to technology stations, allowing them to communicate with loved ones via easy-to-use, web cam computers."
Care provision technologies such as tele-medicine suites and wireless care management systems are also being installed in the facility. The Legacy's memory care suites will be equipped with unobtrusive monitoring technology such as motion sensors and bed weight sensors, both of which allow residents to be cared for comprehensively while also respecting their privacy. Outer Marker's management team has extensive experience in managing assisted living and memory care facilities throughout the Southeast. As it relates to memory care facilities specifically, they have partnered with local architectural firm, FTC Architects and consulted with notable researchers regarding design components proven beneficial in improving quality of life and stimulating cognitive activity in residents. The Legacy's layout, flooring, textures, paint colors, and lighting are just a few of the design elements which were chosen based on successful trends in memory care treatment.
"Many of our design influences can be traced back to years of research and consultation with leaders in senior health," added Francisco Choi, founder of FTC architects. "It also helps that my wife, Maryann Choi, is one of the leading geriatricians in the state of Texas. Her influence on this project has been invaluable. The design elements of The Legacy will showcase the next evolution in the care of seniors and those struggling with memory impairment."
The momentum for this development was facilitated in large part by the City of Georgetown itself. In recent months, The Legacy team has worked diligently with various departments in the City office to keep this project on its positive trajectory.
"I want to convey my utmost appreciation to the City of Georgetown for all of their efforts on this project," expressed Mr. Turner. "We are grateful for the involvement of Mark Thomas in the Economic Development Office, Mayor George Garver, as well as the participation from the City Council Members and the Engineering and Planning Departments. Their steadfast work had helped make The Legacy at Georgetown a reality," Mr. Turner added. "As an out-of-town developer, it is refreshing to work with a city that sincerely believes in facilitating responsible growth."
The Legacy at Georgetown Team Profiles
PinPoint Commercial
Located in Houston, Texas, PinPoint Commercial is a leading national development partnership that focuses its energy on making clients successful. Their Principals average over 25 years of real estate and development experience and have created over $400 Million in assisted living, industrial, medical, and retail assets. This experience enables PinPoint Commercial to leverage its Knowledge, Process, and Relationships to ensure the best possible results for its clients. PinPoint has either developed or partnered in developing numerous projects across the southeast which have included many assisted living facilities, medical office buildings and hospitals. (http://www.pinpointcommercial.com)
Outer Marker Properties, LLC
Outer Marker Properties, LLC is a real estate development firm based in Atlanta, GA which was founded by John Donaldson and Jeramy Ragsdale. They are focused on delivering outstanding performance to investors and customers, while maintaining their reputation of integrity and stewardship. With over 40 years of combined real estate development experience, Outer Marker is committed to selecting properties of 'superior desirability,' determining their highest and best use, and carrying out the development process with professionalism and excellence. (http://www.outermarkerproperties.com )
The 410 Group is led by Tod Petty and together he and his team have over 50 years of experience in the fields of senior housing and healthcare business development and management. They are committed to providing compassionate, quality care and watchful oversight to their clients. Each of their communities is different in physical structure, reflecting both the characteristics of the area in which it is located and the needs of residents. The management and resources of the 410 Group ensure the highest standards of service and long-term commitment to quality, security, choice, and privacy in all of their communities (http://www.410group.com).
FTC Architects
FTC Architects, PC was founded in 2000 with the mission of bringing integrated design to programmatically complex building types of all kinds of uses and functionality. Lately, the firm has immersed itself with new emphasis on designing quality buildings in the field of healthcare, senior housing and supporting health care services. The firm has designed and performed feasibility studies for various healthcare facilities including a hospital, a physical therapy treatment center, long term care facilities, assisted living facilities, and numerous physicians' offices and clinics.
Architect and Developer, Francisco Choi is the founder of FTC Architects, PC, a full-service architecture firm, as well as Tamiro Ventures, Ltd., a commercial real estate development company. Mr. Choi formerly worked with I. M. Pei, Kohn Pederson Fox and in association with Cesar Pelli Architects and Michael Graves Architects. Since 1996, Francisco Choi has provided Central Texas with full-service architecture, project management, construction administration, feasibility design, and construction management services. His clients and projects span the globe from Texas renovations to a 60-story corporate headquarters. (http://www.ftcarch.com)
Joseph Aubin of JPaul Aubin Real Estate represented the buyers.
###