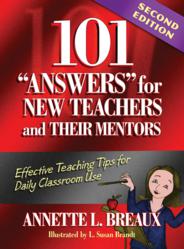 Breaux's updated edition provides even more ideas and strategies to help both new teachers and their mentors become more effective.
Larchmont, NY (PRWEB) May 25, 2011
The beginning of a teacher's career can be fraught with challenges both in and out of the classroom. Without the help of trusted senior staff members, novices can feel easily overwhelmed and confused. After years of witnessing this confusion first-hand, former classroom teacher and curriculum coordinator Annette Breaux wrote 101 "Answers" for New Teachers and Their Mentors: Effective Teaching Tips for Daily Classroom Use, her bestselling book of practical teaching strategies. Now, in a newly revised edition published by Eye On Education, Breaux provides new teachers with even more ideas, which also serve as helpful refreshers for those selected to mentor them.
Covering everything from overall classroom management to using time wisely to dealing with difficult students, parents, and co-workers, the book is a go-to guide for handling nearly every situation an educator faces. "New teachers want answers, yet they are often afraid to ask for help for fear of appearing incompetent," Breaux writes. "There are simple and basic strategies that can help them become more effective, and they deserve access to all of them from day one."
Since great teaching does not always translate into great mentoring, the book is also intended to help more experienced faculty convey their knowledge to new teachers clearly. "Many mentors receive one-shot training and nothing more," writes Breaux. "The more training a mentor receives, the better he/she is able to mentor." With 108 topics, the book is meant to help stimulate discussion between new teachers and their mentors and to assist mentors in grounding ideas in their own experience.
"Entertaining and intelligent," said Eye On Education President Bob Sickles, "this book will reach your heart, as well as your head."
Annette Breaux is creator of Louisiana FIRST, a statewide induction program for new teachers. She is author of Real Teachers, Real Challenges, Real Solutions and co-author of the bestselling books Seven Simple Secrets: What the BEST Teachers Know and Do! and 50 Ways to Improve Student Behavior: Simple Solutions to Complex Challenges with Todd Whitaker. One of the most entertaining and informative authors and speakers in education today, Breaux provides her audiences with practical techniques to implement in their classrooms immediately.
About Eye On Education
Founded in 1992, Eye On Education is an independent and innovative provider of books and other resources for teachers, principals, and administrators. Its mission is to provide busy educators with practical information on professional development, educational leadership, school improvement, student assessment, data analysis, teaching skills, and other topics.
Contact:
Erin Carreiro, Marketing Department
(888) 299-5350
###