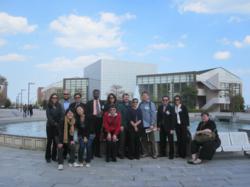 There is nothing more educational for study abroad advisors and faculty than seeing first hand the foreign university campuses, housing, cities, food, and cultural sites experienced by their students
Denver, CO (PRWEB) May 25, 2011
GlobaLinks Learning Abroad, a provider of international education programs across the globe, today announced the successful completion of two advisor site visits in the emerging destination of Asia, one of several world regions where the company organizes advisor educational visits for its AustraLearn, AsiaLearn, and EuroLearn programs.
"There is nothing more educational for study abroad advisors and faculty than seeing first hand the foreign university campuses, housing, cities, food, and cultural sites experienced by their students," said Zac Einerson, regional director of U.S. and Canadian university relations for GlobaLinks Learning Abroad. "Through our in-country expertise and university partners, we are able to tailor our site visits to meet specific educational needs while easing the burden of planning multi-campus, multi-city and multi-country itineraries."
GlobaLinks Learning Abroad offers overseas site visits and educational workshops to advisors and faculty. The advisor tours are designed to deliver a full menu of educational and cultural sites and experiences, including the Bridging Cultures Program, in a short period. The company also supports ongoing advisor education about its pre-program and on-site support services through an Advisor Open House in January and July at its headquarters in Westminster, CO., as well as through other means.
"As somebody who hasn't been to Asia before, it was a chance to see these three countries and the way that AsiaLearn works with students abroad," said Brook Blahnik, director of advising for the Learning Abroad Center at the University of Minnesota, who returned in early May from a 10-day AsiaLearn advisor tour of China, Korea and Japan. "I got a sense of the services they provide in addition to the university provided services and academics."
"Having never been to Asia, I really had no idea about the academic style or what campuses look like," said Joseph Milostan, study abroad advisor for the office of international programs at Kansas State University. "Personally, I've learned a lot more about Asian culture and how to distinguish between China, Korea and Japan. That ties in professionally as well, because now I think I can advise students better about those three locations."
The recent AsiaLearn site visit of China, Korea and Japan included stops at Minzu University in Beijing, Sichuan University in Chengdu, Korea University in Seoul and Ritsumeikan Asia Pacific University (APU) in Japan, as well as the World Campus Japan program. Participants met with local university representatives and AsiaLearn resident coordinators. Among many cultural excursions were visits to the Great Wall, National Stadium (Bird's Nest), and Tiananmen Square in China; Bongeunsa Temple and Insadong in Seoul, Korea; and Myoban Onsen hot springs district in Beppu, Japan.
"The fine arts and humanities that are offered at Sichuan University would be a good fit for the students from my university," said Carla Prael, coordinator of study abroad for the University of Central Missouri. "I think they would also benefit from the language courses that are offered at Sichuan."
A second 10-day AsiaLearn site visit of Thailand, Malaysia and Singapore included stops at Mahidol University International College in Thailand, Swinburne University of Technology – Sarawak in Malaysia, and James Cook University (Singapore), and National University of Singapore. Participants also met with local university representatives and AsiaLearn resident coordinators. Cultural excursions included Grand Palace, Wat Phra Koew and Wat Po temples in Thailand; Bako National Park and Sarawak Museum in Malaysia; and Singapore Botanic Gardens and The Baba House in Singapore.
For more information on educational opportunities available for study abroad advisors by GlobaLinks Learning Abroad, visit the Learning About Our Programs page.
About GlobaLinks Learning Abroad:
GlobaLinks Learning Abroad, based outside Denver in Westminster, Colo., is a leading provider of education abroad programs for college-level students in destinations across the globe. Students from more than 800 universities and colleges across North America choose to study with GlobaLinks Learning Abroad each semester via its educational programs:
AustraLearn, with semester and year abroad, internship, and summer programs in Australia, New Zealand and Fiji via 35 partner universities, and degree programs in Australia and New Zealand at more than 30 institutions via DegreesOverseas.com.
AsiaLearn, with semester, year, and summer programs in China, Hong Kong, Japan, Malaysia, Singapore, South Korea and Thailand via nine partner universities.
EuroLearn, with degree, semester, year, and summer programs, including research abroad, in the Czech Republic, England, Germany, Greece, Scotland, Wales, Ireland, Italy, and The Netherlands via 17 partner universities.
Since it was founded in 1990, GlobaLinks Learning Abroad has sent more than 20,000 students on educational programs worldwide. For more information, visit GlobaLinksAbroad.org or check out the latest news on our programs and partners at GlobaLinksNewsWire.com.
###