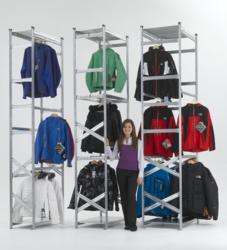 (PRWEB) May 24, 2011
Last month the UK retail sector enjoyed its largest surge in 5 years, with sales increasing 5.2%. Whilst this welcome boost has been attributed to the long weekends, Royal wedding and warmer weather, some economists believe it could be an early sign of the retail sector's recovery. In response, storage equipment specialist Action Storage has announced how its innovative Supershelf™ Garment Hanging system can help retailers maximise their stock levels and profits this summer.
Supershelf™ is a modular, flexible stockroom shelving system that can be customised to maximise the space in any storage area. Its bolt free assembly and lightweight, yet durable, construction enables it to be easily adjusted to suit sudden changes in stock levels or the types of items that need to be stored. This enables retailers to increase their stockroom's capacity, and consequently be better prepared for sudden surges in demand.
Additional benefits of higher stock levels also include the ability to rotate stock, so the store can be refreshed to encourage repeat visits, and the ability to reduce the frequency and costs of restocking.
The Supershelf™ Garment Hanging Racks can be configured as single sided, for placing against walls, or double sided for use in open areas and aisles. Action Storage also supplies a central hanging garment rack with a middle oval beam for containing the garments within the framework of the rack. Supershelf™ garment hanging can support up to 80kg and most styles of clothes hangers. Typically, Supershelf™ garment hanging frames are built to heights of up to 3 metres, incorporating 2 or 3 tier hanging levels, but Action Storage can provide higher configurations upon request. The zinc finished steel frame is both durable and attractive, Supershelf™ is available in a wide variety of configurations including flat shelving, tyre racking, mobile shelving, bin shelving etc. making it equally suitable for use on the shop floor and in a wide variety of other storage environments, including warehouses, archives, garages, food manufacturing stockrooms, workshops and more.
To assist retailers in maximising the storage capacity they can gain from the Supershelf™ Garment Hanging System, Action Storage is able to supply a free survey and design service for large installation projects. This service entails Action Storage visiting a retailer's premises to assess the available space before providing plans on the best possible stockroom arrangement. Due to the high stock levels maintained in its Milton Keynes warehouse, Action Storage can then deliver and install the Supershelf™ system within 5-7 working days.
Along with Supershelf™, Action Storage provides a wide range of storage systems and equipment for use in retail, including staff lockers, mobile racks and pallet trucks. Further information on these, and the 4000 other products in its range, can be found on Action Storage's website, where you can also order its 180 page catalogue free of charge.
About Action Storage
For 25 years Action Storage has supplied shelving, racking and other storage equipment using the latest materials and innovative designs. Its clients include supermarkets, warehouses, government offices, schools and anyone else requiring high quality storage systems throughout the UK and mainland Europe.
Action Storage prides itself on its high service levels, and provides a free, unique advice line for discussing your requirements and assessing the perfect storage solution.
For service enquiries contact:
Website: http://www.action-storage.co.uk
Email: sales(at)action-storage(dot)co(dot)uk
Tel UK: 0800 592215
Outside UK: +44 (0)1908 525700
Fax: +44 (0)1908 321650
Action Storage
6 Fitzhamon Court
Wolverton Mill South
Milton Keynes
Bucks
MK12 6LB
http://www.freshbusinessthinking.com/news.php?NID=8233&Title=Retail+surge%3A+economists+and+retailers+comment
http://www.bloomberg.com/news/2011-05-09/u-k-retail-sales-surge-most-in-five-years-on-easter-break-royal-wedding.html
###