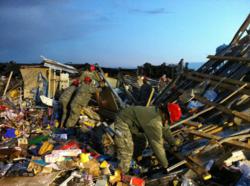 Arlington, Va. (PRWEB) May 23, 2011
More than 1,600 National Guard members in seven states are responding to severe storms, tornadoes and flooding that pushed through the Midwest this weekend, the majority in Louisiana and Mississippi.
Louisiana National Guard members from the 769th Engineer Battalion continue levee patrols inspecting possible sand boils and fortifying the west side of the Mississippi River levee outside of Vidalia, La.
Approximately 140 Missouri National Guard members were mobilized today in support of tornado response efforts in Joplin after reports of an undetermined number of fatalities and significant structural damage in the surrounding areas. The Missouri Guard is focusing its efforts on search and rescue, emergency route clearance, communications support and security.
Additionally, after weeks of responding to flood relief efforts across Minnesota, Guard members there are now shifting their energy to other parts of the state where tornado destruction has caused one reported fatality and more than two dozen injuries.
EDITOR'S NOTE: Media covering local- or state-level response should contact Ms. Rose Richeson at 703-607-2581 or rose.m.richeson(at)us(dot)army(dot)mil to be connected directly to a public affairs specialist in your area of interest.
###