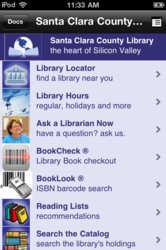 The new Optimum package is a game changer for libraries looking to maximize the benefits of mobile technology
Palo Alto, CA (PRWEB) May 24, 2011
Boopsie, the leading mobile solution for universities and libraries worldwide, announced today that it has launched Boopsie for Libraries Optimum- a new product that aims to increase awareness and access to catalog inventory, foster a more engaged reader community and create efficiencies for library staff.
Optimum includes Boopsie's newest feature, BookLook™ that allows patrons to scan the ISBN code of a book in a bookstore, check availability at their local library and instantly reserve it via their mobile phone. Boopsie is the only mobile solution provider to integrate leading ILS systems and ISBN data with card-holder account access into a single custom-branded mobile application.
"Optimum is a game changer," says Greg Carpenter, Boopsie CEO. "Through native mobile app technology, we are giving public and academic libraries the tools to revolutionize the patron experience both inside and outside the library in ways that increase staff availability to customers and could ultimately lower capital costs."
Boopsie BookLook™ is the first to cross-reference ISBN data and disparate ILS systems with library account functionality. By simply scanning or entering the ISBN barcode data, card holders can determine if a book is owned by their local library, the branch where it is located and either place it on hold or join the waiting list. Additional information from existing licensed feeds is accessible such as publisher reviews, bibliographic sources such as Syndetics and crowd-sourced services such as Goodreads. Also included in the Optimum package is Boopsie BookCheck™ which allows patrons to check out a CD, DVD or book from anywhere in the library using their mobile phone. BookCheck™ is currently in use by Cuyahoga County Public Library, the top rated public library system in the United States.
The Boopsie for Libraries Optimum package is compatible with the majority of phones, although the barcode scanning functionality is limited to iPhone, Android and BlackBerry platforms due those manufacturers' inclusion of advanced camera technology. Owners of other phones must manually enter barcode numbers in order to take advantage of the BookLook™ and BookCheck™ features. Optimum is immediately available for iPhone and Android. Support for the BlackBerry platform will be available in the near future. Optimum is offered to existing customers as an upgrade and to new customers as a premium package.
Additional information on Boopsie for Libraries can be found at http://www.boopsie.com/libraries.html
About Boopsie
Founded in 2006 and located in Silicon Valley, California, Boopsie is the industry-leading mobile solution for universities and libraries worldwide. Customers include Seattle Public, LA Public, University of Toronto, University of Notre Dame, Brown University, University of Gent in Belgium, and University of Auckland in New Zealand. Boopsie is American Library Association's mobile partner for a range of conferences including ALA 2010 and the preferred mobile solution for a number of consortia. Disruptively affordable and easy-to-deploy without compromising on world-class performance, Boopsie's solutions are fully hosted and all apps are downloadable on mobile devices including Android, BlackBerry, iPhone, iPod Touch, iPad, J2ME, Palm, Symbian, Windows Mobile, and also support browser-enabled devices.
###