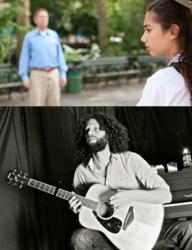 Staten Island, NY (PRWEB) May 24, 2011
The Council on the Arts & Humanities for Staten Island (COAHSI), is excited to present musician/composer Enrico Arcaro and filmmaker Philip Giordano at the Full Cup, 388 Van Duzer Street, on Saturday, June 4, 7-9pm, as part of SUMMERFEST! Arcaro and Giordano are both recipients of the 2011 Excellence in the Arts Award, made possible by COAHSI and the NYC Department of Cultural Affairs.
Starting at 7pm, Philip Giordano will show his short film "The Empty Playground," which has won numerous awards. The short film is about a man struggling with his inner demons who meets a young girl on a playground. At this screening, Mr. Giordano and the female lead will be available to talk about the film and take questions from the audience. There will also be "The Empty Playground Gallery," a cardboard copy of the movie poster, production stills, and behind-the-scenes photos.
Directly following the film screening at 8pm will be a performance by musician/composer Enrico Arcaro. Arcaro will present a performance of various instrumental musical compositions including two works for string quartet, an aggressive solo-acoustic guitar, works for guitar ensemble and flute, and electrified-instrumental-sonic-landscape compositions for electric guitar, bass, keyboard, and drum-set. The music will convey a simplistic, primal sincerity, connecting the musical traditions of centuries past, to the contemporary timbres of our time.
This evening of performances will be on Saturday, June 4, 7-9pm at the Full Cup, 388 Van Duzer Street, free admission.
SummerFest is a series of FREE performances and workshops by Staten Island artists, presented by the Council on the Arts and Humanities for Staten Island (COAHSI). SummerFest grants are made possible through the NYC Department of Cultural Affairs. Summerfest is also sponsored by SIBOREALTORS, Pastosa Ravioli of Forest Avenue, Atlantic Salt, DeSantis, Kiefer, Shall & Sarcone LLP, CLR Printing Plus, Brooklyn Brewery, Northfield Foundation, and Mandolin Brothers. For more information about SUMMERFEST, visit: statenislandarts.org/summerfest.html, or call 718-447-3329 x1003.
About COAHSI:
The mission of COAHSI is to cultivate a sustainable and diverse cultural community for the people of Staten Island by: 1) making the arts accessible to every member of the community; 2) supporting and building recognition for artistic achievement; 3) providing artists, arts educators, and organizations technical, financial, and social resources to encourage the creation of new work. COAHSI does extensive outreach to communities that are underserved geographically, ethnically, and economically. The organization works hard to impact the arts across all borders.
# # #