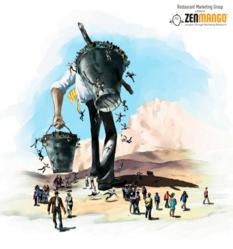 In today's market, consumers know they are in the driver's seat and their expectations go beyond price and value.
Centennial, CO (PRWEB) May 24, 2011
The restaurant industry is on the rebound when it comes to customer retention, with major national brands taking the lead in maintaining and improving profitability, according to the fifth annual 2011 Leaky Bucket® Study, which measures the likelihood of customers returning to a restaurant brand. Published by Restaurant Marketing Group, a division of ZenMango, the study is the restaurant industry's only leading indicator of guest retention, and analyzes a brand's "leak size": the higher a brand's leak score, the more customers that brand is losing; lower leak scores indicate a higher level of customer retention.
With 2,008 respondents, the study evaluated 78 of the nation's leading restaurant brands in March 2011. Once respondents were identified as unlikely to return to a brand (less than 50% certain) they were evaluated on the primary return intent factors including quality of food, menu, atmosphere, price/value, location, service and family friendliness. Brand categories demonstrating the most significant improvements were the Mexican, Seafood and Steak categories. Additional highlights from the study's findings include:
•Overall restaurant industry leak size was 30% -- a 2% improvement over 2010 and a 6% improvement from a 36% leak size high in 2009. (The industry is now almost back to its pre-recession 2008 size of 29%.)
•The restaurant industry continues to be a consumer's marketplace. 42% of restaurant customers feel that more restaurants are competing for their business and another 47% feel that the same number of restaurants are competing for their business.
•Primary drivers for choosing restaurants are (in order of importance): pricing specials/deals; quality of food; and convenience of location. However, three additional new factors have emerged in 2011: atmosphere of restaurants, availability of special meals (i.e., gluten-free menu, calorie labeling), and how "green" the restaurant is perceived to be.
•Restaurant customers continue to be cautious about how often they eat out. 44% of restaurant customers say they are eating out less often.
•Grocery stores continue to be a formidable competitor to restaurants. 36% of respondents said they are purchasing more prepared food from grocery stores, as opposed to restaurants, than they have in the past.
"In today's market, consumers know they are in the driver's seat and their expectations go beyond price and value," said Arjun Sen, President of ZenMango. "Our research indicates that each restaurant guest decides during one experience whether they will come back to the restaurant and for what occasion." According to Mr. Sen, a brand's profitability is directly linked to leaks in its customer base. "When a brand brings in 7% new customers but loses 6% of its customer base each year, the brand nets 1%. When a brand is able to reduce leaks by half, it can have a significant positive impact on the brand's financial performance," he said.
According to Trey Hall, Senior Vice President and Chief Marketing Officer at TGI Friday's Global, the annual study provides information that can change a business trajectory. "Understanding why consumers are leaving the brand is as important as why they are coming, and stemming the flow of defectors creates a strong ROI on all efforts," he said.
Restaurant Marketing Group (RMG), a division of ZenMango, provides insights to the restaurant industry through marketing research that makes action inevitable. With more than 19 years of experience helping restaurant brands succeed, RMG recognizes that every brand's problem is unique and deserves a unique solution with leading edge, actionable results. More information may be found at at http://www.zenmango.com.
###