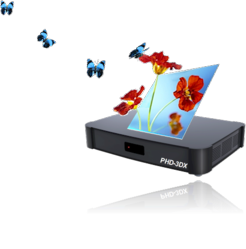 Anaheim, CA (PRWEB) May 28, 2011
PrimeDTV's web store, ePVision.com announces to release brand-new video 2D to 3D converter box, PHD-3DX, in August. The box can convert HD video content input up to 1080p/60Hz resolution. Then it outputs to any 3D or 3D ready TVs and projectors in real-time stunning 3-D effects. The results are also much more vivid 3D realistic like if paired with PrimeDTV PHD-8VX, Full HD 1080p Media center and HDTV tuner box, since PHD-8VX can generate and super-scale any video input to 1080p quality.
PHD-3DX also brings video gamers to a brand-new level of playing experience as to enjoy amazing 3-D video gaming environment in real-time on big screen TVs. For live-concerts, sports events, TV shows, movies and live-TV news broadcasting and other events, it also creates such amazing 3-D experience using PHD-3DX.
"As our design team always strives to make the best HD products in the market for consumers. This PHD-3DX will bring ordinary 2-D video content to 3-D like vivid images! Better yet, PHD-3DX is an affordable product for consumers to enjoy!" said by PrimeDTV marketing director Gary Lee.
For more information on PrimeDTV full line products offering on their web store, ePVision.com, please visit http://www.epvision.com.
About PrimeDTV / ePVision.com
PrimeDTV is a leading design and manufacturing company in digital video products. Famous for its PHD series of ATSC/QAM DTV Tuner Receiver Set Top Box (STB). The reputations of PHD series STBs have been built up by its high quality video design. PrimeDTV will be continuously producing its upcoming HD Digital TV Program, PVR Recorder box, PHD-eZ1 and promoting our current PHD-205LE, PHD-HM5, PHD-8VX through our on-line web store @ ePVision.com.
Contact Information:
Gary Lee
PrimeDTV Technologies, Inc.
###