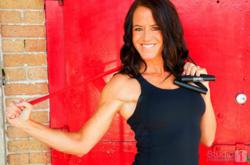 A 227 gram (8 oz) serving of plain non-fat Voskos Greek Yogurt contains 24 grams of protein. That's half of the DV
Sun Valley, CA (PRWEB) May 24, 2011
It's swimsuit season again all over America. That means many Americans are seeing our "winter" body for the first time since 2010—and we're not happy.
"It's easy for the weight to creep up on us," says Jenny Grothe, who in 2007 combined exercise and diet to shrink from a size 14 to a 4. Today, Grothe, 41, is a figure model, and this past April, she completed her first Boston Marathon. Grothe is a regular contributor to Voskos Greek Yogurt's "What's Fresh" blog, where the most recent article is titled, "Focus on Being Fit, Not Skinny."
"An easy, stress-free way to help lose weight you gained over the winter is to incorporate Greek yogurt into your diet," says Grothe. "Voskos' website includes dozens of Greek yogurt recipes for low-carbohydrate breakfasts, appetizers, entrees and snacks."
Several scientific studies have linked weight loss with yogurt consumption, says Grothe. "Greek yogurt has been called a 'fat-fighting food' because of its high calcium and protein content. Plain Greek yogurt is also very low in carbohydrates, making it diabetic-friendly." And a diet that includes yogurt can help target a common "problem area"—belly fat. A study published in the International Journal of Obesity showed that dieters on a high-calcium yogurt lost 81% more belly fat than dieters on a low-calcium diet.
Grothe's choice? Plain Greek yogurt from Voskos, made by California's family-owned Sun Valley Dairy.
"A 227 gram (8 oz) serving of plain non-fat Voskos Greek Yogurt contains 24 grams of protein. That's half of the DV."
"When adding Greek yogurt from Voskos to a summer weight loss strategy, you don't feel deprived," says Grothe. "A 227 gram (8 oz) serving of Voskos Plain Non-fat Greek Yogurt contains 24 grams of protein—that's half the recommended daily value. The protein in Voskos Greek Yogurt helps you feel satiated because it takes longer to digest than carbohydrates. If you feel full longer, you're less likely to graze on junk food."
Voskos Greek Yogurt has been recognized in awards contests presented by Fitness magazine, Women's Health, Vegetarian Times, Natural Solutions, Self Magazine and Cooking Light magazine. It is also a triple gold winner of the 2010 Los Angeles International Dairy Competition.
About Voskos Greek Yogurt
Award-winning for its thick, rich taste and nutritional value, Voskos Greek Yogurt is all-natural, hormone-free, gluten-free, and Kosher certified. Through Voskos' proprietary ProStrain™ method, Voskos yields two times more protein, more probiotics, less lactose, and a thicker, creamier consistency. Voskos is the only brand to offer an organic Greek yogurt line in addition to its all-natural plain and blended flavors and never has "fruit on the bottom." Available nationwide, retailing between $1.49 - $2.99 in such stores as Kroger, Safeway, Publix, Bi-Lo, Whole Foods, Sprouts, and more. For store locations, and to download a coupon, visit voskos.com or facebook.com/voskosgreekyogurt today.
About Jenny Grothe
After losing 60 pounds in under a year, author of "75 Ways to Love Your Oatmeal - Great Tasting Recipes that Keep You Lean," and professional figure builder, Jenny Grothe, quickly learned the value of proper diet and exercise. At 37, an age when most overweight women want to give up, Jenny didn't let fate get the best of her. Since losing her weight she has competed in seven Figure Competitions, taking home five trophies. She has also completed three marathons, including the 2011 Boston Marathon. With more than 25,000 active fans, Jenny runs the popular Facebook fan page, "Recipes for Gals in Figure & Bodybuilding" where she offers inspiration, tips, product reviews, and healthy recipes for women and men all over the world. Her book, published in December 2010, nearly sold out its first print run.
Media Contact
Emily Neukircher
Sun Valley Dairy
818-504-1775 ext 113
marketing(at)voskos(dot)com
###