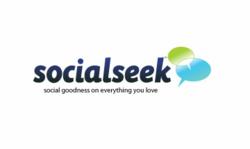 "It's pretty exciting to see how people are really taking to Socialseek and the value it brings to brands," said Jaafer Haidar, co-founder of Sensidea.
New York, NY (PRWEB) May 24, 2011
Sensidea Corporation, the industry's leading provider of socially mobile software solutions for today's brands, today unveiled Socialseek, the industry's first branded social aggregation dashboard for customer and fan engagement (http://www.socialseek.com) at TechCrunch Disrupt.
Socialseek enables any kind of brand, including companies, celebrities, sports teams, universities and more, to provide one web destination for customers and fans that combine all social activity and web content, making it easier to engage a brand's audience and for fans to stay abreast of news of their favorite brands.
Today, every brand, from auto to events, have taken to social media channels like Twitter, Facebook, and YouTube, to engage fan bases and build brand popularity which takes those fans away from their own branded web pages to third-party sites where they lose control of the experience and attention. Socialseek solves this problem by providing one destination for all web activity and social media content. Socialseek helps fans and customers easily stay connected with their favorite brands, while the brand controls the experience, advertising, encourages engagement, enables fans to share content back to Twitter and Facebook which strengthens popularity and reach.
Socialseek, generally available today, has been in private beta for 90 days prior to its launch. During private beta, results showed that communities powered by Socialseek showed people spending an average of 10-15 minutes directly engaging with a brand.
There are currently over 500 Socialseek branded pages, some created by Sensidea and others by brands and users. A Socialseek Pro™ subscription allows brands to take advantage of all the platform has to offer including advertising and marketing opportunities. Future plans include allowing brands to buy keywords to further drive interested users based on topic.
"It's pretty exciting to see how people are really taking to Socialseek and the value it brings to brands," said Jaafer Haidar, co-founder of Sensidea. "It's been a fun product to bring to life and we're excited to bring it to the world at Techcrunch Disrupt and peak the interest of some of the best in the industry."
About Sensidea
Sensidea Corporation (http://www.sensidea.com) is a social & mobile software company creating innovative products and solutions through leading cross-platform technology. All Sensidea products focus on intuitive yet powerful experiences to ensure broad reach and high engagement and ROI. Sensidea is based in London, Ontario Canada. For more information visit http://www.sensidea.com.
About TechCrunch Disrupt
TechCrunch Disrupt NYC 2011(http://disrupt.techcrunch.com) is TechCrunch's second annual conference in New York City attracting over 1,500 leading technology innovators and investors and over 150 new startups. The format combines top thought-leader discussions with new product and company launches. Morning executive discussions debate the most timely disruptions in media, advertising and technology. Afternoons host the Startup Battlefield where 25 new companies will launch for the first time on stage, selected to present from more than 500 applications received from around the world. Another 100 early-stage startups will exhibit in Startup Alley. TechCrunch will award a $50,000 grand prize along with other award recognitions at the conclusion of the conference. The conference is May 23-25, 2011, at Pier 94 located at 755 12th Avenue (at 55th Street & 12th) in Midtown New York.
TechCrunch (http://www.techcrunch.com) is a leading technology media network dedicated to obsessively profiling and reviewing new Internet products and companies. Founded by Michael Arrington in 2005, TechCrunch and its network of websites reach over 13 million unique visitors and more than 30 million page views per month. TechCrunch was acquired by AOL in 2011 and operates a global network of websites including dedicated properties in Europe and Japan, as well as specialized industry websites including MobileCrunch, CrunchGear, GreenTech, TechCrunchIT, and CrunchBase. TechCrunch's CrunchBase is the leading open database about startup companies, people, and investors. In addition to TechCrunch Disrupt, TechCrunch hosts other conferences and events, including the Crunchies Awards (http://crunchies2010.techcrunch.com) and various meet-ups worldwide, serving as community platforms for industry conversation and collaboration.
###